John Milton Complete Shorter Poems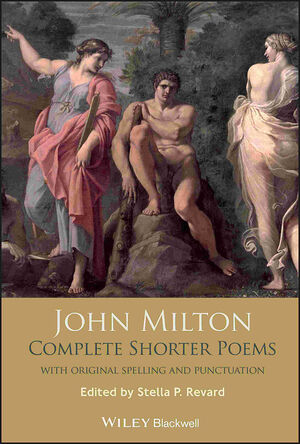 John Milton Complete Shorter Poems
ISBN: 978-1-405-12926-8 May 2009 Wiley-Blackwell 600 Pages
Description
An important and innovative edition of Milton's shorter verse & the first volume to present the poems with the original spelling and pronunciations intact, offering readers the opportunity to experience the vitality of the poems as they were experienced by Milton's contemporaries:
Includes Milton's original Latin poems, with a new English translation on facing pages for cross-comparison
Serves as a companion to Lewalski's Paradise Lost and Loewenstein's prose selections of Milton
Features both collected and uncollected poetry in English, Latin, and Greek, the latter two with translations
Retains original spelling and punctuation of Milton's 1645 Poems and his 1671 Paradise Regained and Sampson Agonistes
Offers readers comprehensive footnotes, marginal glosses, chronology, bibliography, and longer discussions in introductions to sections
Table of contents
Note on This Edition.
Acknowledgments.
List of Illustrations.
Chronology.
Textual Introduction.
Introduction to the 1645 Volume: Poems of Mr. John Milton.
ENGLISH AND ITALIAN POEMS.
The Stationer to the Reader.
On the morning of CHRISTS Nativity.
A Paraphrase on Psalm 114.
Psalm 136.
The Passion.
On Time.
Upon the Circumcision.
At a solemn Musick.
An Epitaph on the Marchioness of Winchester.
On May morning.
On Shakespear.
On the University Carrier.
Another on the same.
L'Allegro.
Il Penseroso.
SONNETS.
I O Nightingale.
II Donna leggiadra.
III Qual in colle aspro.
Canzone.
IV Diodati, e te'l dirò.
V Per certo i bei vostr'occhi.
VI Giovane piano.
VII How soon hath Time.
VIII Captain or Colonel, or Knight in Arms.
IX Lady that in the prime of earliest youth.
X Daughter to that good Earl.
Arcades.
Lycidas.
A Mask of the Same Author. Title page.
To the Right Honourable, John Lord Vicount BRACLY.
The Copy of a Letter Writt'n By Sir HENRY WOOTTON.
The Persons.
A MASK Presented At LUDLOW-Castle, 1634.
Introduction to the Poemata, 1645.
THE POEMATA, 1645.
Translator's Note: The Latin Poems.
Testimonia.
Haec quae sequuntur de Authore testimonia.
Joannes Baptista Mansus ad Joannem Miltonium.
Ad Joannem Miltonem Epigramma Joannis Salsilli.
Ad Joannem Miltonum (Selvaggi).
Al Signor Gio. Miltoni (Antonio Francini).
JOANNI MILTONI LONDINIENSI (Carolus Datus).
ELEGIARUM LIBER PRIMUS.
Elegia prima ad Carolum Diodatum.
Elegia secunda. In obitum Præconis Academici Cantabrigiensis.
Elegia tertia. In obitum Præsulis Wintoniensis.
Elegia quarta. Ad Thomam Junium.
Elegia quinta. In adventum veris.
Elegia sexta. Ad Carolum Diodatum.
Elegia septima.
Haec ego mente [Retraction].
In proditionem Bombardicam.
In eandem.
In eandem.
In eandem.
In inventorem Bombardæ.
Ad Leonoram Romæ cantentem.
Ad eandem.
Ad eandem.
SYLVARUM LIBER.
In obitum Procancellarii medici.
In quintum Novembris.
In obitum Præsulis Eliensis.
Naturam non pati senium.
De Idea Platonica.
Ad Patrem.
Psalm 114.
Philosophus ad regem.
Ad Salsillum.
Mansus.
EPITAPHIUM DAMONIS.
Introduction to Poems, &c. UPON Several Occasions, 1673.
ENGLISH POEMS ADDED IN 1673.
On the Death of a fair Infant dying of a Cough.
SONNETS.
XI A Book was writ of late call'd Tetrachordon.
XII On the same.
XIII To Mr. H. Lawes, on his Aires.
XIV [On ye religious memory of Mrs Catharine Thomason].
XV (18) On the late Massacher in Piemont.
XVI (19) When I consider how my light is spent.
XVII (20) Lawrence of virtuous Father.
XVIII (21) Cyriack, whose Grandsire.
XIX (23) Methought I saw.
The Fifth Ode of Horace. Lib. I.
Ad PYRRHAM. Ode V.
At a Vacation Exercise in the Colledge.
On the new forcers of Conscience under the Long PARLIAMENT.
PSALMS.
I.
II.
III.
IV.
V.
VI.
VII.
VIII.
LXXX.
LXXXI.
LXXXII.
LXXXIII.
LXXXIV.
LXXXV.
LXXXVI.
LXXXVII.
LXXXVIII.
LATIN AND GREEK POEMS ADDED IN 1673.
Poem added to Elegiarum Liber in 1673.
Apologus de Rustico & Hero.
POEMS ADDED TO SYLVARUM LIBER IN 1673.
In Effigiei Ejus Sculptorem.
Ad Joannem Rousium.
Introduction to the Uncollected Poems.
SONNETS PUBLISHED IN 1694.
To my Lord FAIRFAX.
To Oliver Cromwell.
To Sir HENRY VANE.
To Mr. CYRIAC SKINNER Upon his Blindness.
UNPUBLISHED LATIN POEMS.
Carmina Elegiaca.
Verses in Lesser Asclepiads (Ignauus Satrapam).
Introduction to Poems Published in 1671.
Introduction to Paradise Regained.
PARADISE REGAINED.
Book I.
Book 2.
Book 3.
Book 4.
Introduction to Samson Agonistes.
SAMSON AGONISTES.
Of that sort of Dramatic Poem which is call'd Tragedy.
THE ARGUMENT.
The Persons.
SAMSON AGONISTES.
APPENDIX.
Bridgewater Maske.
Manuscript of songs by Henry Lawes from A Mask.
Trinity Manuscript: a page from A Mask.
SELECT BIBLIOGRAPHY.
TEXTUAL NOTES.
Textual Notes to English and Italian Poems, 1645.
Textual Notes to Poemata, 1645.
Textual Notes to English Poems Added in 1673.
Textual Notes to Sonnets Published in 1694.
Textual Notes to Unpublished Poems.
Textual Notes to Paradise Regained.
Textual Notes to Samson Agonistes.
Reviews
"This new edition gives us an accurate picture of how Milton's publication of his shorter poems evolved across a lifetime.  Its main strength, in my opinion, is that Revard will introduce readers who might otherwise not have considered Milton as a literary polyglot to the 1645 Poemata and other Latin and Italian poems in their proper contexts, which cannot but enrich such readers' understanding of Milton's work."  (Milton Quarterly, 2011)
"Original spelling and punctuation are retained, and in all other ways the volume prioritizes accessibility and clarity, with chronology, introductions to each section and ample but not swamping footnotes to each poem. The introductory essays do not assume scholarly knowledge, and they make every poem seem vibrant, and vital to Milton's development as a writer."(
TLS
, April 2010)"A splendid student edition. Remarkably fresh and uncluttered, it offers strong historical context as well as specific linguistic guidance for the modern reader. Priority goes to the poetry and the decision to return to original spelling proves no hindrance but rather seems to deepen the reader's engagement with the texts. An outstanding edition which is easy to handle and to use."
Margaret Kean, St. Hilda's College, University of Oxford
Features


The first volume to represent an original spelling edition of Milton's Complete Shorter Poems, offering readers the opportunity to experience the vitality of the poems as they were experienced by Milton's contemporaries

Presents a range of Milton's shorter verse in their original form, incorporating spelling and punctuation, rhythms and sound qualities which may be lost in other editions of Milton's poetry

Key feature is the inclusion of the original Latin poems, accompanied by a brand new English translation, provided on facing-pages for cross-comparison

Edited by prominent Milton scholar, Stella Revard

In addition, the series editor is Barbara Lewalski, one of the world's leading Milton scholars. The book follows the successful Paradise Lost (original text) edition, which published in 2007 under the editorship of Barbara Lewalski