John Milton Prose: Major Writings on Liberty, Politics, Religion, and Education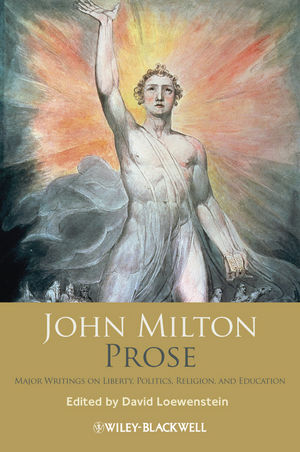 John Milton Prose: Major Writings on Liberty, Politics, Religion, and Education
ISBN: 978-1-118-32564-3 November 2012 Wiley-Blackwell 608 Pages
Description
Regarded by many as the equal of Shakespeare in poetic imagination and expression, Milton was also a prolific writer of prose, applying his potent genius to major issues of domestic, religious and political liberty.  This superbly annotated new publication is the most authoritative single-volume anthology yet of Milton's major prose works.
Uses Milton's original language, spelling and punctuation

Freshly and extensively annotated

Notes provide unrivalled contextual analysis as well as illuminating the wealth of Milton's allusions and references

Will appeal to a general readership as well as to scholars across the humanities
Note on This Edition and Abbreviations viii
Acknowledgements ix
List of Illustrations x
Chronology xi
Introduction xvi
MILTON'S PROSE TEXTS
1. Prolusions: 1
Prolusion VI 3
Prolusion VII 13
2. Of Reformation 22
3. The Reason of Church-Government Urg'd against Prelaty (selections) 61
4. An Apology Against a Pamphlet (selections) 92
5. The Doctrine and Discipline of Divorce 103
6. Of Education 170
7. Areopagitica; A Speech of Mr. John Milton 181
8. Tetrachordon (selections) 214
9. The Tenure of Kings and Magistrates 243
10. Eikonoklastes (selections) 275
11. A Second Defence of the English People 319
12. A Treatise of Civil Power in Ecclesiastical Causes 377
13. Considerations Touching the Likeliest Means to Remove Hirelings out of the Church 398
14. The Readie and Easie Way to Establish a Free Commonwealth 426
15. Of True Religion, Hæresie, Schism, and Toleration 448
16. Selections from Milton's Private Letters 459
17. De Doctrina Christiana (selections) 470
18. The Life of Mr. John Milton by Edward Phillips 558
Select Bibliography 573
"Still the volume supports these various agendas admirably, and will ensure that Milton's prose continues to challenge and reward the kind of active, discerning readerships that Milton himself courted."  (Renaissance Quarterly, 1 July 2014)
"Each of these texts has its advantages, and no one should be disappointed by either. Both will make teaching Milton more pleasurable and inventive."  (Milton Quarterly, 19 May 2014)
"Milton's extraordinary prose, extensively represented in David Loewenstein's ambitious edition, has gained many new readers in recent years, and it may be true that some students, at least in British schools and universities, read
Tenure of Kings and Magistrates
before, or even instead of, the great poetry."
Times Literary Supplement
(June 14 2013)