John Stuart Mill: Moral, Social, and Political Thought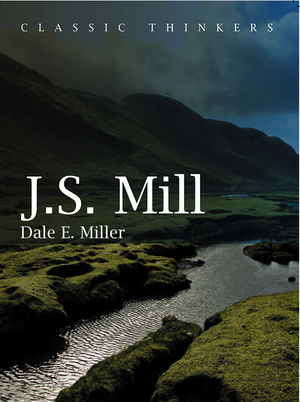 John Stuart Mill: Moral, Social, and Political Thought
ISBN: 978-0-745-62583-6 August 2010 Polity 252 Pages
Description
This book offers a clear and highly readable introduction to the ethical and social-political philosophy of John Stuart Mill.

Dale E. Miller argues for a "utopian" reading of Mill's utilitarianism. He analyses Mill's views on happiness and goes on to show the practical, social and political implications that can be drawn from his utilitarianism, especially in relation to the construction of morality, individual freedom, democratic reform, and economic organization. By highlighting the utopian thinking which lies at the heart of Mill's theories, Miller shows that rather than allowing for well-being for the few, Mill believed that a society must do everything in its power to see to it that each individual can enjoy a genuinely happy life if the happiness of its members is to be maximized. Miller provides a cogent and careful account of the main arguments offered by Mill, considers the critical responses to his work, and assesses its legacy for contemporary philosophy.

Lucidly and persuasively written, this book will be a valuable resource for students and scholars seeking to understand the continued importance of Mill's thinking.
Contents
Preface
Acknowledgments
Part I: Foundations of Mill's Moral, Social and Political Thought
1. A Singular Life
2. Mill's Understanding of Human Nature
Part II: Mill's Moral Philosophy
3. The 'Proof' Principle of Utility
4. The Higher Pleasures
5. Utilitarianism: The 'Happiness Morality'
6. Mill's Theory of Right and Wrong
Part III: Mill's Social and Political Thought
7. Mill on Liberty and Individuality
8. Millian Normative Political Economy
9. Millian Democracy
PART IV: Concluding Remarks
10. Mill's Utopian Utilitarianism
Notes
Bibliography
Index
"A unified and carefully argued account that deserves to be a cornerstone of Mill studies for years to come."
Utilitas
"Simply the best book on Mill available today ... the achievement for which the author deserves eternal praise is that Miller's Mill makes sense. It is pleasant to see how Mill, who is often accused of being a 'muddled thinker' presents such a consistent philosophy."
Ethical Perspectives
"An excellent book for all Mill scholars as well as the general reader."
Notre Dame Philosophical Reviews
"An excellent study of Mill's moral, social, and political thought."
Choice
"Refreshing and intellectually satisfying."
Koninklijke Brill NV

"Well written, well researched and comprehensive. Persuasively argued, it achieves its objectives in an insightful way."
Political Studies Review
"A high quality work - scholarly, open-minded, engaging, and accessible. The book has admirable breadth, the discussions of political economy and democracy being especially welcome."
Roger Crisp, University of Oxford
"Dale Miller's book is a superb piece of work. It is comprehensive, compelling, informative and polished. The volume really does cover all of Mill's moral and political philosophy and its arguments are downright persuasive. The book will be the state of the art discussion of the topic and will also provide a clear and straightforward introduction for advanced undergraduate students."
Brad Hooker, University of Reading
"Succinct, lucid, and well informed, this is quite simply the best volume there is on the moral, social, and political side of Mill's thought. Although accessible to those studying Mill for the first time, professional philosophers will learn much from Miller's insightful, judicious, and philosophically acute commentary."
William Shaw, San Jose State University and author of Contemporary Ethics: Taking Account of Utilitarianism
Ideal introduction to the work of one of Western Philosophy's most influential thinkers
Cogent and careful account of the main arguments in Mill's ethical and social-political philosophy
Considers the critical responses to his work and assesses its legacy for contemporary philosophy
Argues for a "utopian" reading of Mill's utilitarianism
Written in a lively and accessible style