John Wilmot, Earl of Rochester: The Poems and Lucina's Rape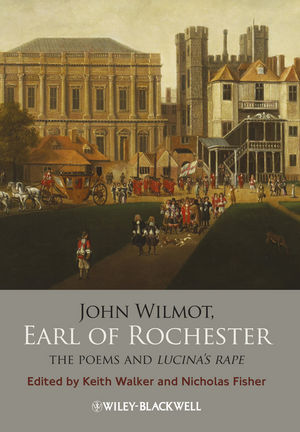 John Wilmot, Earl of Rochester: The Poems and Lucina's Rape
ISBN: 978-1-444-31899-9 February 2010 Wiley-Blackwell 296 Pages
Description
Building on the strength of Keith Walker's acclaimed
The Poems of John Wilmot, Earl of Rochester
(1984), leading scholar Nicholas Fisher presents a thoroughly revised and updated edition of the work of one the greatest Restoration wits.
Includes the text of Lucina's Rape, Rochester's adaptation of Fletcher's revenge tragedy Valentinian, in a text that readily identifies Rochester's revisions
Presents the poems in versions that were current during Rochester's lifetime, allowing the reader to experience the poems as Rochester's contemporaries did
Incorporates insights and discoveries made over the last twenty-five years and texts of manuscripts that previously were unavailable for study
Table of contents
Notes on This Edition.
Acknowledgments.
List of Illustrations.
Chronology.
Introduction.
Further reading.
Abbreviations.
POEMS.
Love Poems.
Translations.
Prologues and Epilogues.
Satires and Lampoons.
Poems to Mulgrave and Scroope.
Epigrams, Impromptus, Jeux d'Esprit, etc..
Poems less securely ascribed to Rochester.
LUCINA'S RAPE OR THE TRAGEDY OF VALLENTINIAN.
Introduction.
Text.
Index of Titles and First Lines.
Reviews
"At last, an indispensable edition of Rochester for all scholars and teachers of the Restoration period. The drama Valentinian/Lucina's Rape is literally a revelation, over one thousand lines of authentic Rochester now visible in bold type."—James Grantham Turner, University of California, Berkeley
"Fisher's edition of Rochester is not only a fitting and loving tribute to two great Rochesterians, Keith Walker and Harold Love: it is a considerable work of independent scholarship, providing an unmodernized text fully informed by the most authoritative manuscript sources and intelligently annotated. A delicious bonus is the inclusion of Rochester's version of John Fletcher's tragedy Valentinian entitled Lucina's Rape. Rochester is one of the most influential writers not to have appeared extensively in print in his own lifetime. This important edition enables us to understand that influence and evaluate it anew."—Brean Hammond, University of Nottingham
"For scholars of seventeenth-century libertine culture and poetry lovers with a penchant for old-school smut, Rochester's verse holds abiding interest. Walker's and Fisher's edition makes these verses accessible to a broad audience, their exhaustive annotations and introductory material offering contextual information invaluable to readers new to this author, or indeed to the seventeenth century." (M/C Reviews, October 2010)
What's New
Building on the strength of Keith Walker's acclaimed The Poems of John Wilmot, Earl of Rochester (1984), leading scholar Nicholas Fisher presents a thoroughly revised and updated edition of the work of one the greatest Restoration wits
Includes the text of Lucina's Rape, Rochester's adaptation of Fletcher's revenge tragedy Valentinian, in a text that readily identifies Rochester's revisions
Presents the poems in versions that were current during Rochester's lifetime, allowing the reader to experience the poems as Rochester's contemporaries did
Incorporates insights and discoveries made over the last twenty-five years and texts of manuscripts that previously were unavailable for study