Join the Conversation: How to Engage Marketing-Weary Consumers with the Power of Community, Dialogue, and Partnership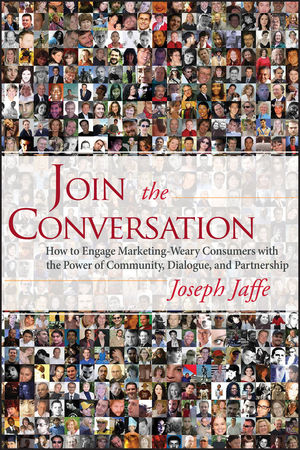 Join the Conversation: How to Engage Marketing-Weary Consumers with the Power of Community, Dialogue, and Partnership
ISBN: 978-0-470-13732-1
Oct 2007
320 pages
Description
With the continued fragmentation of the media and proliferation of media options, the balance of power has shifted from the marketer to the individual. In Join the Conversation, Jaffe discusses the changing role of the consumer and how marketers must adapt by joining the rich, deep and meaningful conversation already in progress. This book reveals what marketers must do to become a welcome and invited part of the dialogue, and how to leverage and integrate the resulting partnership in ways that provide win-win situations for businesses, brands and lives.
Chapter 1. Talking "At" vs. Talking "With".
Chapter 2. The many-to-many model.
Chapter 3. Can Marketing be a Conversation?
Chapter 4. The birth of generation "i".
Chapter 5. The Rise of the Prosumer.
Chapter 6. The new consumerism.
Chapter 7. The 6 Cs; 3 phases of conversation.
Chapter 8. The content-conversation relationship.
Chapter 9. What your future holds for conversation?
Chapter 10. Why are you so afraid of conversation?
Chapter 11. The 10 tenets of good conversation.
Chapter 12. The 5 Ways you can "Join the Conversation".
Chapter 13. When conversation isn't conversation at all.
Chapter 14. Where does conversation fit in?
Chapter 15. Conversation through Community.
Chapter 16. Conversation through Dialogue.
Chapter 17. Conversation through Partnership.
Chapter 18. Getting started...the Manifesto for Experimentation.
Chapter 19. Does conversation actually work?
Chapter 20. Do you speak conversation? Take the test.
Index.
"The long and short of it is that the book is excellent…Jaffe deserves a place in Marketing history for this." (
SlightlyRoughAroundtheEdges.Wordpress.com
, Tuesday 25th February 2008)
"In a series of case studies, Jaffe shows you how to bring your brand up to speed." (Fin Week, Thursday 3rd April 2008)