Joining a Nonprofit Board: What You Need to Know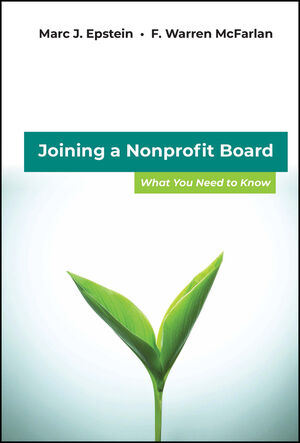 Joining a Nonprofit Board: What You Need to Know
ISBN: 978-0-470-93125-7
Apr 2011, Jossey-Bass
224 pages
Description
Praise for Joining a Nonprofit Board

""As an individual who has served on various nonprofit boards, and as the president and CEO of a large nonprofit organization, I can attest to how valuable this book is. Marc Epstein and Warren McFarlan offer insight into the expectations of nonprofit board members, which is extraordinarily beneficial to individuals considering their first nonprofit board and to seasoned professionals already serving on boards." —Gail McGovern, President and CEO, American Red Cross
Excerpted from Foreword"

"This book is a roadmap for the business person who wants to serve on a nonprofit board, and unwittingly assumes that the approaches that worked so well in the for-profit world can be seamlessly extrapolated to the nonprofit board room." —Roseanna H. Means, M.D., founder and president, Women of Means

"A must-read for all new and existing nonprofit board members. It is full of practical advice that will help improve the effectiveness of nonprofit board members and the organizations they serve." —Roger Servison, president emeritus, Boston Museum of Fine Arts, and vice chairman, Boston Symphony Orchestra

"What a powerful tool now available for anyone involved with governance of America's nonprofit enterprises. The analysis is cogent and concise, amply supported by real-life examples." —George B. Beitzel, chairman emeritus, Amherst College, and chairman emeritus, Colonial Williamsburg Foundation

"Joining a Nonprofit Board offers practical advice in complementing your business experience with the nuances of nonprofit governance, performance, and management in order to fully achieve the societal mission." —Jeffrey C. Thomson, president and CEO, Institute of Management Accountants

"This book will guide you through the differences between for-profit and nonprofit organizations (and boards). It will help you navigate through all the nuances in which nonprofit organizations actually operate on a day-to-day basis."—Elaine Ullian, former president, Boston Medical Center

"Joining a Nonprofit Board is a must-read. This book should be required reading and distributed at the opening board meeting." —Agnes C. Underwood, former head, Garrison Forest School and National Cathedral School; vice president/managing associate, Carney, Sandoe and Associates

"A Board needs a unifying and visionary objective—'It must be World Class.' This book successfully shows how to create a World Class Board." —W. Richard Bingham, former chairman, California Academy of Sciences
Exhibits, Figures, and Tables.
Foreword.
Preface.
Acknowledgments.
1 Introduction.
2 Mission.
3 Performance Measurement.
4 Financial Strategy and Oversight.
5 Philanthropy.
6 Board Structure and Role.
7 Leadership Chairman and CEO—A Complex Partnership.
8   You as a Trustee.
Notes.
References and Reading List for Senior Managers and Board Members.
Case Studies of Interest.
The Authors.
Index.