Jones' Clinical Paediatric Surgery: Diagnosis and Management, 6th Edition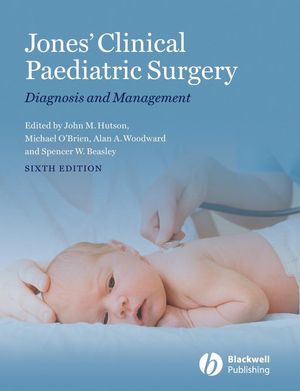 Jones' Clinical Paediatric Surgery: Diagnosis and Management, 6th Edition
ISBN: 978-1-444-30011-6 January 2009 Wiley-Blackwell 336 Pages
Description
This unique book applies a systematic approach to explain the role of surgery in treating childhood diseases. Throughout the book key subject areas are supported by case vignettes as well as high quality photographs and illustrations.
Building on the successful style of previous editions, this sixth edition of Jones' Clinical Paediatric Surgery is substantially revised exploring fundamental topics such as:



Neonatal Emergencies

Head and Neck

Abdomen

Abdominal Mass

Urinary Tract

Trauma

Orthopaedics

Chest

Skin/Soft Tissues
Jones' Clinical Paediatric Surgery provides paediatricians and surgeons with a straightforward and clear explanation of the surgical options available for the care of the paediatric patient.
Table of contents
List of Contributors.
Foreword to the First Edition.
Tribute to Mr Peter Jones.
Preface to the Sixth Edition.
Acknowledgement.
Introduction.
1 Antenatal Diagnosis – Surgical Aspects.
2 The Care and Transport of the Newborn.
3 The Child in Hospital.
Neonatal Emergencies.
4 Respiratory Distress in the Newborn.
5 Diaphragmatic Hernia.
6 Oesophageal Atresia and Tracheo-Oesophageal Fistula.
7 Bowel Obstruction.
8 Abdominal Wall Defects.
9 Spina Bifida.
10 Disorders of Sexual Development.
11 Anorectal Anomalies.
Head and Neck.
12 The Scalp, Skull and Brain.
13 The Eye.
14 The Ear, Nose and Throat.
15 Cleft Lip, Palate and Craniofacial Anomalies.
16 Abnormalities of the Neck and Face.
Abdomen.
17 The Umbilicus.
18 Vomiting in the First Months of Life.
19 Intussusception.
20 Abdominal Pain: Appendicitis?.
21 Recurrent Abdominal Pain.
22 Constipation.
23 Bleeding from the Alimentary Canal.
24 Infl ammatory Bowel Disease.
25 The Child with an Abdominal Mass.
26 Spleen, Pancreas and Biliary Tract.
27 Anus, Perineum and Female Genitalia.
28 Undescended Testes and Varicocele.
29 Inguinal Region and Acute Scrotum.
30 The Penis.
Urinary Tract.
31 Urinary Tract Infection.
32 Vesico-Ureteric Reflux.
33 Urinary Tract Dilatation.
34 The Child with Wetting.
35 The Child with Haematuria.
Trauma.
36 Trauma in Childhood.
37 Head Injuries.
38 Abdominal and Thoracic Injuries.
39 Foreign Bodies.
40 The Ingestion of Corrosives.
41 Burns.
Orthopaedics.
42 Neonatal Orthopaedics.
43 Orthopaedics in the Infant and Toddler.
44 Orthopaedics in the Child.
45 Orthopaedics in the Teenager.
46 The Hand.
Chest.
47 The Breast.
48 Chest Wall Deformities.
49 Lungs, Pleura and Mediastinum.
Skin and Soft Tissues.
50 Vascular and Pigmented Naevi.
51 Soft Tissue Lumps.
Answers to Case Questions.
52 Answers to Case Questions.
Index
Reviews
"I would recommend the book for all trainees concerned with paediatric practice. It should be compulsory reading for candidates for the DCH examination and for higher fellowships in paediatrics and general surgery"
Child<!--end-->
"The first edition was 'strongly recommended' in this column, a verdict which can readily be repeated for this new eiditon and with the addition of 'very'...full marks!"
Archives of Diseases in Childhood

"A rich but concise source of information...well-chosen illustrations and a very carefully selected bibliography...I enjoyed reading this book.
Paediatric Annals

"Strongly recommended...you can be sure this book will be appreciated..."
British Journal of Surgery

"This unique book applies a systematic approach to explain the role of surgery in treating childhood diseases. Throughout the book key subject areas are supported by case vignettes as well as high quality photographs and illustrations. This is a nicely done … contribution to pediatric surgical literature." Doodys
What's New
Systematic approach supported by case vignettes


Clearly explains the role of surgery in treating childhood diease

Building on the successful style of previous editions

Containing quality photographs and illustrations

Substantially revised, with a comprehensive index