Judaism in Modern Times: An Introduction and Reader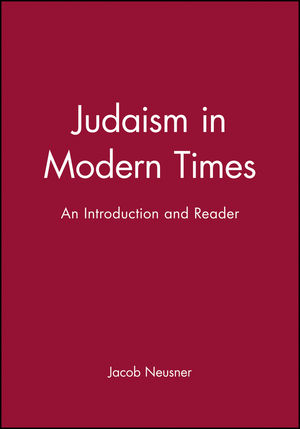 Judaism in Modern Times: An Introduction and Reader
ISBN: 978-1-557-86684-4
Jul 1995, Wiley-Blackwell
272 pages
Description
This book provides an introduction to Judaism in the nineteenth and twentieth centuries for all students of Judaism and world religions, and covers major movements that have been developed. Written by a leading teacher and researcher, each chapter features a clear and authoritative introduction to its subject, accompanied by a reading by a specialist in the particlular field.
Acknowledgements. Letter to the Student. Introduction: What do we mean by "Judaism" And By "Modern Times"?.Part I: The Nineteenth Century: .1. The Challenge of the Secular Age: Segregation or Integration and Three Integrationist Judaisms.2. Reform Judaism.3. Orthodox Judaism.4. Conservative Judaism.Part II: The Twentieth Century:. 5. The Challenge of the "Post-Christian" Century and the Response of Three "Post-Christian" Judaisms. 6. Zionism.7. Jewish Socialism and Yiddishism.8. American Judaism of Holocaust and Redemption. Epilogue.9. What do we learn about religion from Judaism in Modern Times?.Index.
"This volume, however, is superb.....this volume is sufficiently thought-provoking to be on every Jewish studies student's table."
Times Educational Supplement
"Neusner's new book is a pleasure to read. The reader can enjoy observing a penetrating analytical mind at work on the phenomena of modern judaism, developing a way of looking at its historical and social problems that will make sense to the beginning student, even if he or she is not Jewish, and still have validity for the seasoned historian of religion and culture." William Nichols, Judaism
"It is certainly an important book which should be debated and become required reading for students of contemporary Judaism." Graham Harvey, Reviews in Religion and Theology
* Features primary readings to support and illustrate main text.
* Very distinguished international author with much experience of textbook writing.