Judgment and Choice: The Psychology of Decision, 2nd Edition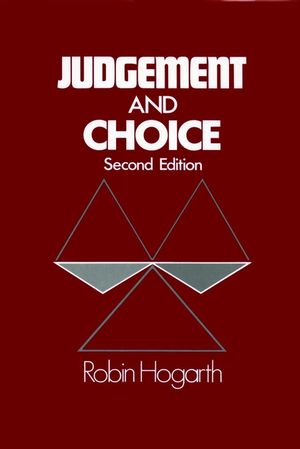 Judgment and Choice: The Psychology of Decision, 2nd Edition
ISBN: 978-0-470-86005-2 November 2000 324 Pages
Description
Despite the many formal methods available most decisions are made intuitively?that is, without apparent reasoning and almost instinctively. This revised and updated edition emphasizes the unstructured and natural way people make judgements and exercise choice, which accounts for almost all real decision-making activity, but argues that intuition can be both studied and educated. The book is quite different from standard texts on decision-making methodology and standard decisions theory in that it is written from the point of view of a psychologist who recognizes that almost all decisions are based on anticipations people make about the future (predictive judgements) which lead to choices or decisions largely based on intuition. Written in a clear and non-technical way it deals with the basis of intuitive judgement, demonstrates the limitations on the human ability to make judgements, and suggests the means of overcoming potential shortcomings. At the same time it stresses the importance of learning the limits to one?s judgmental a bility. The purpose of this book is to help people make better decisions. In a world of increasing uncertainty and complexity Judgement and Choice will be of great value to all decision makers?in commerce, government service, medicine or any other professional activity. Contents Preface;
The nature of human judgement;
Randomness and the probabilistic environment;
Combining information for prediction;
Combining information for evaluation and choice;
Choice under uncertainty;
On learning relations;
The role of memory in judgement;
Creativity, imagination, and choice;
Problem structuring and decision aids;
Human judgement?an overview; Appendices; Index
Reviews of the First Edition ??I believe that Professor Hogarth?s book will prove to be of historical importance in the development of the field of human judgement.? R.M. Corbin, Journal of Forecasting, Vol. 1. 1982. ??Hogarth has given us a clear, integrated treatment of the major issues in the field and has managed to convey both the excitement of the work itself and the direct practical implications of the findings.? Terry Connolly, ASQ, June 1982.
Table of contents
The Nature of Human Judgement.

Randomness and the Probabilistic Environment.

Combining Information for Prediction.

Combining Information for Evaluation and Choice.

Choice Under Uncertainty.

On Learning Relations.

The Role of Memory in Judgement.

Creativity, Imagination, and Choice.

Problem Structuring and Decision Aids.

Human Judgement: An Overview.

Appendixes.

Index.