Judith Butler: From Norms to Politics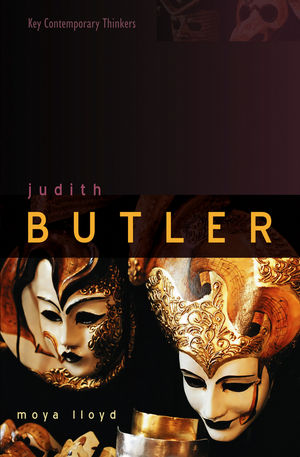 Judith Butler: From Norms to Politics
ISBN: 978-0-745-65480-5
May 2013, Polity
216 pages
Description
With the publication of her highly acclaimed and much-cited book Gender Trouble, Judith Butler became one of the most influential feminist theorists of her generation. Her theory of gender performativity and her writings on corporeality, on the injurious capacity of language, on the vulnerability of human life to violence and on the impact of mourning on politics have, taken together, comprised a substantial and highly original body of work that has a wide and truly cross-disciplinary appeal.

In this lively book, Moya Lloyd provides both a clear exposition and an original critique of Butler's work. She examines Butlers core ideas, traces the development of her thought from her first book to her most recent work, and assesses Butlers engagements with the philosophies of Hegel, Foucault, Derrida, Irigaray and de Beauvoir, as well as addressing the nature and impact of Butler's writing on feminist theory. Throughout Lloyd is particularly concerned to examine Butler's political theory, including her critical interventions in such contemporary political controversies as those surrounding gay marriage, hate-speech, human rights, and September 11 and its aftermath.

Judith Butler offers an accessible and original contribution to existing debates that will be an invaluable resource for students and scholars alike.
Abbreviations x
Acknowledgements xii
1 Introduction 1
Feminism, identity and difference 4
From homosexual to gay and lesbian to queer 7
The influence of poststructuralism 10
Hegel and desiring subjects 13
Postscript 23
2 Rethinking Sex and Gender 25
The trouble with women 25
Feminism and the sex/gender debate 28
Denaturalizing sex and gender 30
Cultural intelligibility – contesting heteronormativity 33
From phenomenology to performativity 36
Performing gender 42
Women in/and feminism 44
Conclusion 46
3 Towards a Subversive Gender Politics 49
From parody to politics 50
Subversive gender politics 51
Performativity and subversion 54
Free will versus determinism 57
Enter iterability 61
The ambivalence of drag 66
The matter of bodies 68
Politicizing abjection – making bodies matter 74
Conclusion 76
4 Psychoanalysis and the Gendered Subject 78
Gender Trouble and psychoanalysis 79
Rubin and 'The Traffic in Women' 80
Freud and Oedipus 82
Melancholic gender identifi cations 83
Melancholia and performativity 85
Lacan and Oedipus 88
Assuming sex 89
Locating resistance 91
Kinship matters 93
Psychic subjectivity 97
Passionate attachment and primary dependency 99
Resisting Butler 102
Conclusion 105
5 'Talking Back' – Resignifi cation and Politics 107
Words that Wound 108
The force of the performative 110
Opposing sovereign performatives 113
A linguistic account of subjectivity 115
Linguistic subjectivity and responsibility 118
Revisiting agency – politics and resignifi cation 120
Against the state 126
Conclusion 133
6 What Makes for a Liveable Life? 134
Normative violence and questions of liveability 135
Corporeal vulnerability 138
Mourning and grief 141
Questions of recognition 143
What's wrong with 'desiring the state's desire'? 146
The politics of radical democracy 14
Cultural translation 150
Conclusion 154
Notes 157
Bibliography 182
Index 197
"An original and engaging overview of Butler's body of work."
Australian Journal of Political Science
"For students and faculty struggling to understand Judith Butler, I strongly recommend this book. Lloyd proves to be a reliable guide who is not afraid to engage critically with Butler's gender theory and politics."
Steven Seidman, University at Albany, State University of New York
"Moya Lloyd's careful reading of the work of Judith Butler is a gift of scholarly generosity. With insight and precision, Lloyd sets out the themes, questions and contexts driving Butler's philosophy. This important book will benefit beginning and advanced readers of Butler as it traces the deep connections between the body, language, ethics and politics extending throughout her thought."
Jodi Dean, Hobart and William Smith Colleges


A new book in the very successful Key Contemporary Thinkers series which looks at the highly influential feminist theorist, Judith Butler

Explores Butler's core ideas and philosophical engagement, tracing the development of her thought from her first book to her most recent works

Examines Butler's critical interventions in contemporary political debates, such as gay marriage, hate-speech, human rights and September 11

Accessible and original contribution to existing debate that will be an invaluable resource for students and scholars alike