Just One Thing: Twelve of the World's Best Investors Reveal the One Strategy You Can't Overlook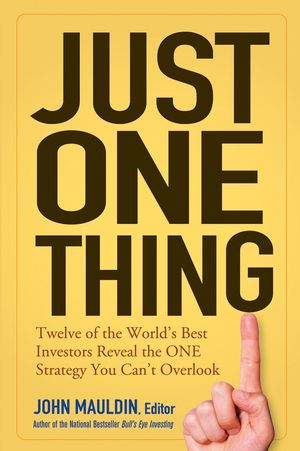 Just One Thing: Twelve of the World's Best Investors Reveal the One Strategy You Can't Overlook
ISBN: 978-1-118-16104-3
Sep 2011
272 pages
Description
In Just One Thing, author John Mauldin offers an incomparable shortcut to prosperity: the personal guidance of an outstanding group of recognized financial experts, each offering the single most useful piece of advice garnered from years of investing. Conversational rather than technical in tone, each contributor's personal principle for success is illustrated with entertaining and illuminating real-life stories.
Introduction.
1. Signposts in the Fog (Andy Kessler).
2. The "Not-So-Simple" (But Really Utterly So) Rules of Trading (Dennis Gartman).
3. The Triumph of Hope over Long-Run Experience: Using Past Returns to Predict Future Performance of a Money Manager (Mark T. Finn and Jonathan Finn, CFA).
4. The Long Bond (A. Gary Shilling, Ph.D.).
5. Risk Is Not a Knob (Ed Easterling).
6. Psychology Matters: An Investors' Guide to Thinking about Thinking (James Montier).
7. The Means Are the Ends (Bill Bonner).
8. The 2 Percent Solution (Rob Arnott).
9. The Outsider Trading Scandal (George Gilder).
10. The Winner's Rule (Michael Masterson).
11. Rich Man, Poor Man (Richard Russell).
12. The Millennium Wave (John Mauldin).
Notes.
Index.
"…a well-researched work…goes against the grain…" (
Gulf Business
, January 2006)
[Author interview in Offshore Engineer] "…few books have caused as much consternation…"