Justice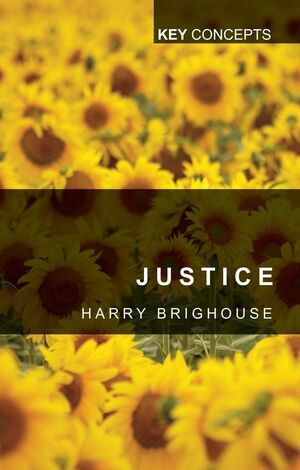 Justice
ISBN: 978-0-745-62595-9 February 2005 Polity 208 Pages
Description
Justice
is a concise and accessible introduction to the central theories of justice in contemporary political theory. The book aims to provide readers with a clear understanding of the theories and the main objections to them, as well as showing how these theories engage with one another.
It offers detailed accounts of John Rawls's theory of justice as fairness; the alternative 'capabilities approach' developed by Nobel-prize winning economist Amartya Sen; the libertarian theories of Milton Friedman and Robert Nozick; the 'group-rights' based theory of Will Kymlicka; and Nancy Fraser's theory of participatory parity. The book also includes extensive discussions of the nature and purpose of political theorizing, and it asks whether theories of justice should take only social institutions as their subject, or should also comment on personal motivations and behaviour.
Table of contents
Preface.
Chapter One: Introducing Justice.
Chapter Two: Ideal Theory and Institutional Feasibility.
Chapter Three: John Rawls's Theory of Justice as Fairness.
Chapter Four: The Capability Approach.
Chapter Five: Libertarian Justice.
Chapter Six: Justice and Groups.
Chapter Seven: Affirmative Action, Equality of Opportunity, and the Gendered Divison of Labour.
Chapter Eight: Personal Justice, Political Justice and Liberal Feminism.
Chapter Nine: Conclusion.
Notes.
A GUide to Further Reading.
Bibliography.
Index.
Reviews
'
Justice
is lively, forcefully argued and clearly written. It contains critical expositions of Rawls's liberal egalitarianism and its main competitors. Brighouse writes with flair, using homespun examples as well as examples from contemporary politics. He shows a solid understanding of the complexities of achieving justice in the real world.'
David Copp, University of Florida
'Harry Brighouse sets out the main lines of contemporary thinking about justice with clarity and insight. The key theories and the most telling objections to them are thoroughly explores and connected to a range of policy issues in a manner that is both accessible to students and engaging for specialists.' Christopher Bertram, University of Bristol
Features


Connects philosophical theories of justice to real world issues.

Outlines and provides critical discussion of, the major theories of justice in contemporary debates.

Includes a detailed and accessible discussion of the slogan 'the personal is political'.

Includes a chapter on methods in political theory as they pertain to thinking about justice.

Includes a thorough and accessible introduction to John Rawls's theory of justice focussing on his final book, Justice as Fairness.