Kabbalah For Dummies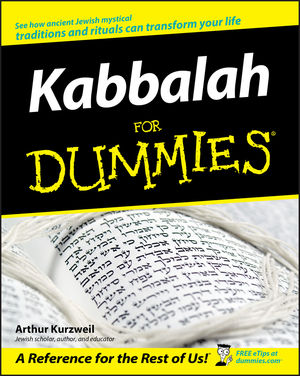 Kabbalah For Dummies
ISBN: 978-1-118-06862-5 April 2011 384 Pages
Description
Kabbalah For Dummies presents a balanced perspective of Kabbalah as an "umbrella" for a complex assemblage of mystical Jewish teachings and codification techniques. Kabbalah For Dummies also shows how Kabbalah simultaneously presents an approach to the study of text, the performance of ritual and the experience of worship, as well as how the reader can apply its teaching to everyday life.
Introduction.
Part I: So, What's the Big Secret? Unmasking Kabbalah.
Chapter 1: What Is Kabbalah?
Chapter 2: Magic, Mishegas, and Other Things that Kabbalah Isn't.
Chapter 3: Looking Back: A Brief History Of Kabbalah.
Part II: Cutting to the Core of Kabbalah.
Chapter 4: The Link between Heaven and Earth: Kabbalah's Own Top-Ten Countdown.
Chapter 5: Everything (Even a Traffic Jam) Is for the Best.
Chapter 6: Our Bodies Don't Have Souls; Our Souls Have Bodies.
Chapter 7: Like Déjà Vu All Over Again: Reincarnation in Kabbalah.
Chapter 8: Instant Karma's Gonna Get You.
Part III: Livin' La Vida Kabbalah.
Chapter 9: Living One Day at a Time.
Chapter 10: Living One Week at a Time.
Chapter 11: A Year in the Life of a Kabbalist.
Chapter 12: A Kabbalist's Life Cycle.
Part IV: Fine-tuning the Essential Skills of the Kabbalist.
Chapter 13: Discovering the Kabbalistic Books that Really Matter.
Chapter 14: Hitting the Books — and Kissing Them: Studying Like a Kabbalist.
Chapter 15: Praying Like a Kabbalist.
Chapter 16: Knowing the Unknowable God.
Part V: The Part of Tens.
Chapter 17: (Almost) Ten Myths about Studying Kabbalah.
Chapter 18: Ten Great Kabbalists in History.
Chapter 19: Ten Places that Kabbalists Visit.
Part VI: Appendixes.
Appendix A: Books and Authors You'll Thank Me For Recommending.
Appendix B: Patriarchs, Swindlers, Prophets, and Sinners: Meet 100 Torah Characters.
Appendix C: A Glossary of Everything Kabbalah.
Index.