Kansas: A Land of Contrasts, 4th Edition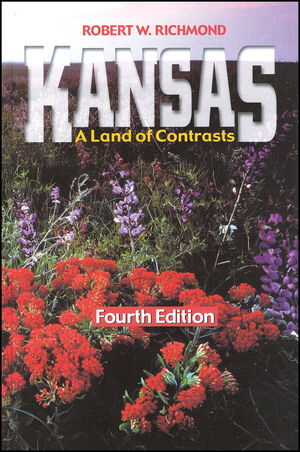 Kansas: A Land of Contrasts, 4th Edition
ISBN: 978-0-882-95949-8
Feb 1999, Wiley-Blackwell
366 pages
Description
Now in its fourth edition, the singular text of Kansas history for the last twenty-four years, Dr. Robert W. Richmond's Kansas: A Land of Contrast remains the classic survey of the Kansas story.
The political and economic aspects of the state's development are fully covered, but in this latest revision there is a greater emphasis on social history, with artists, writers, and athletes sharing the stage with politicians, industrialists, and explorers.
As in previous editions, Richmond includes ample quotations from documents of the period to convey a first-hand impression of the times. These colorful and often humorous anecdotes pepper the text with distinctive detail and make it a true pleasure to read.
The bibliographic readings at the end of each chapter have been extensively updated. The text is also profusely illustrated, with many images new to this edition.
Preface ix
Chapter 1. The Land and Its Native People 1
Chapter 2. Exploration of the Great Plains 12
Chapter 3. Indian Removal and Christian Missionary Efforts 26
Chapter 4. Trails and Early Transportation 43
Chapter 5. "Bleeding Kansas"—The Territorial Period 63
Chapter 6. The First Years of Statehood 83
Chapter 7. The Development of the Railroads 102
Chapter 8. The Cattle Trade: Trail Herds, Towns, and Ranchers 120
Chapter 9. The Frontier is Settled 135
Chapter 10. Immigrants on the Prairies 155
Chapter 11. Prohibition to Populism, 1870-1900 177
Chapter 12. Progressive Politics and Progress in a New Century 197
Chapter 13. The First World War and a "Return to Normalcy" 217
Chapter 14. The Changing, Troubled Twenties 233
Chapter 15. The "Dirty Thirties": Kansas and the Great Depression 250
Chapter 16. Changing Times: The Second World War and Its Aftermath 268
Chapter 17. Kansas and the Arts 290
Chapter 18. Change, Controversy, and Commemoration 321
Appendix 346
Index 351
Praise for the 3rd edition:
"Kansas: A Land of Contrasts is likely to remain the best general history of the state for some years to come." (Kansas History: A Journal of the Central Plains, Winter 1989-1990)