Kant and the Problem of God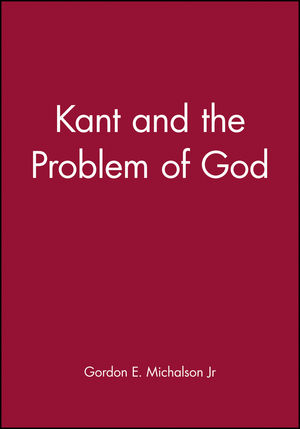 Kant and the Problem of God
ISBN: 978-0-631-21220-1 August 1999 Wiley-Blackwell 216 Pages
Description
Immanuel Kant is often referred to as the 'philosopher of Protestantism' because he provides a model for mediating successfully between a modern scientific world view and theism. This radical new reading of Kant's religious thought suggests that he is in fact more accurately read as a precursor to nineteenth-century atheism than to liberal Protestant theology.
Preface.
1. Kant, Modernity and Theism.
2. Kant's Moral Argument: Diminishing the Divine.
3. Autonomy's Autonomy.
4. Reason's Interest.
5. Heaven Comes to Earth: The Ethical Commonwealth.
6. Conclusion.
Notes.
Bibliography.
Index.
" This is a book of which its author can be proud. It has a very provocative thesis, is excellently and clearly argued, and should stimulate a good deal of discussion." Van A. Harvey, Professor Emeritus of Religion, Stanford University
"Michalson argues that Kant's writings on morality and religion increasingly portray the idea of God as adjunct to human morality, and not as something beyond the human. The use of Kant's work s a foundation for a mediating theology is based, the author shows, on a fundamental misreading of Kant. The Thesis is clearly stated, is strongly supported by documentation and textual interpretation, and its implications for contemporary religious thought are sketched. This is an excellent book." Wayne Proudfoot, Professor of Religion, Columbia University
* Provides a radical new reading of Kant's religious thought.
* Reveals the way in which theism is absorbed by a human frame of reference in Kant's thought.
* Offers fresh perspective on Kant's moral argument for the existence of God and on his theory of autonomy.