Karl Imhoff's Handbook of Urban Drainage and Wastewater Disposal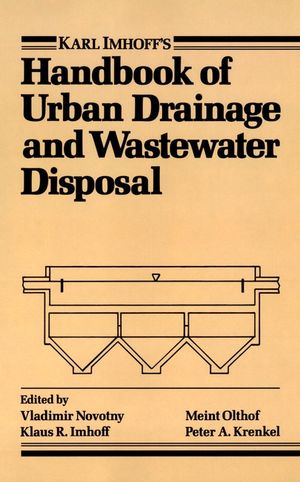 Karl Imhoff's Handbook of Urban Drainage and Wastewater Disposal
ISBN: 978-0-471-81037-7 May 1989 416 Pages
Description
Presents, in straightforward language, the fundamentals of urban drainage and wastewater disposal. Carrying on the tradition of its predecessors (the first edition appeared in German in 1906), this new edition of a standard in the field has been reworked to reflect new U.S. technology, practices, and conditions. Chapters cover calculation of drainage systems, urban stormwater and combined sewer overflow management, general considerations of wastewater treatment, design and planning of treatment plants, industrial wastewater treatment and pretreatment, protection of receiving waters: discharge of wastewater into surface waters and self-purification of surface waters, conversion of SI units to English customary units, and information retrieval. Includes appendix of monographs for dimensioning of sewers.
Table of contents
URBAN DRAINAGE.

Fundamentals of Urban Drainage.

Calculation of Drainage Systems.

Urban Stormwater and Combined Sewer Overflow Management.

SEWAGE AND WASTEWATER TREATMENT.

General Considerations.

Wastewater Characterization.

Mechanical and Chemical Treatment Units.

Biological Treatment Units.

Advanced (Tertiary) Wastewater Treatment.

Sludge Handling.

Industrial Wastewater Treatment and Pretreatment.

Disposal of Household Wastes from Unsewered Areas.

Planning and Design of Treatment Plants.

PROTECTION OF RECEIVING WATERS.

Discharge of Wastewater into Surface Waters.

Self-Purification of Surface Waters.

Conversion of SI Units to U.S.

(English) Customary Units.

Information Retrieval.

Appendix.

Index.