Keep it Running, Keep it Safe: Process Machinery Safety and Reliability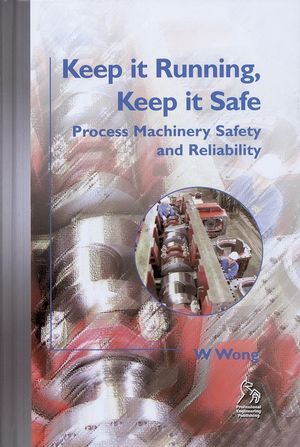 Keep it Running, Keep it Safe: Process Machinery Safety and Reliability
ISBN: 978-1-860-58407-7 June 2005 304 Pages
Description
Keep it Running, Keep it Safe is based upon the highly regarded Process Machinery Safety and Reliability by the same author. Keep it Running, Keep it Safe, is an invaluable ready reference for day to day work in the process industries. The book outlines a procedure for the assessment of machinery safety and reliability, covering:
Hazard assessment
Legal requirements
Reliability hazards and failure modes
Control of Hazards
Health and safety compliance
It provides a general interpretation of the relevant legislation and identifies safety measures and procedures for the assessment of equipment safety and reliability. With liberal use of case studies and real examples, it explains complex issues in a direct and straightforward style.
Keep it Running, Keep it Safe offers a comprehensive understanding of the issues and techniques involved in improving safety and reliability with the potential to make a real difference to everyday engineering practice for plant managers, plant engineers, maintenance engineers, loss prevention engineers, engineering designers, inspectors, and all those concerned with the safe and efficient operation of engineering plant.
Acknowledgements.
How to use the Guide.
Chapter 1. Scope and Introduction.

Chapter 2. The Law.

Chapter 3. Risk Assessment.

Chapter 4. Reliability Assessment.

Chapter 5. Control of Risks.

Chapter 6. Operations and Maintenance.

Chapter 7. Keep it Running.

Chapter 8. Keep it Safe.

Chapter 9. Epilogue.

Bibliography.
Directory.
Appendix A. Glossary.
Appendix B. Materials safety data sheet - some common hazards.
Appendix C. Michinery Directive - checklist for process machinery.
Appendix D. Documentation relating to a fire-water pump.
Index.