Keeping Your Kids Out Front Without Kicking Them From Behind: How to Nurture High-Achieving Athletes, Scholars, and Performing Artists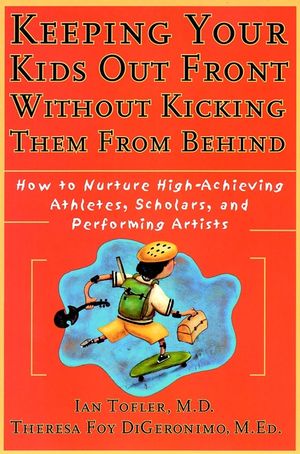 Keeping Your Kids Out Front Without Kicking Them From Behind: How to Nurture High-Achieving Athletes, Scholars, and Performing Artists
ISBN: 978-0-787-95223-5 September 2000 Jossey-Bass 256 Pages
Description
Keeping Your Kids Out Front Without Kicking Them From Behind is a common sense guide for moms and dads of talented and gifted children. In this practical book, authors Dr. Ian Tofler and Theresa Geronimo--experts in the field of parenting--present their Seven-Step Program for Encouraging and Protecting High-Achieving Children. This innovative program offers guidance for establishing healthy boundaries between parents' ambitions and the needs of their talented children and clear-cut instructions for helping children balance achievement with happiness.

To read Debating What is Best for Our Children, an excerpt from this book,click here.
Introduction.

AN UP-CLOSE LOOK AT PARENTS AND CHILDREN.

Debating What is Best for Our Children.

From Benign to Abusive.

A SEVEN-STEP PROGRAM FOR ENCOURAGING AND PROTECTING HIGH-ACHIEVING CHILDREN.

Step 1: Define and Evaluate "Talent" Why Evaluate Talent?;
Six Points of Talent Evaluation;
Advice from the Experts.

Step 2: Selecting Classes, Schools, and Camps that Cater to High-Achieving Children Evaluate Four Motives for Special Training: 1) Improvement of Skill, 2) Supportive Environment, 3) Elite Exposure, 4) Resume Building; and Advice From the Experts.

Step 3: Beware Abusive Instructors Avoiding the Win-At-Any-Cost Instructor;
The Burden of Star Makers;
Understanding The Verbal Batterer;
The Danger of the Parent Substitute;
Beware the Sexual Abuser;
Advice from the Experts.

Step 4: Weigh the Cost of Sacrifice Childhood Sacrifices;
Parental Sacrifices;
Sibling Sacrifices;
Advice from the Experts.

Step 5: Look Beyond the Talent Into the Future Look Beyond the Talent;
Look Where You're Going;
Beware the Downside of Competition;
Watch Those Social Skills;
Minimize Chronic Stress;
Nurture Your Parent/Child Relationship;
Advice from the Experts.

Step 6: Beware the Red Flags of Achievement by Proxy Distortion Burnout;
Over-training;
Depression;
Psychological Pain and Illness;
Eating Disorders;
Substance Abuse;
Answering a Cry For Help.

Step 7: Take a Good Look at your Parenting Style Autocratic Controller;
Narcissistic and Needy;
Financially Hungry;
Overly Competitive;
Frustrated Wanna-Be or Has-Been;
Living in Denial;
Untangling the Roots of ABPD;
Encourage and Support.

Epilogue.

Chapter Notes.
"This book provides the third voice that parents of gifted chidlren really need to help make the difficult everyday decisions. How much study or practice is too much versus too little? How much pressure or competition is an incentive for a child's mastery, and how much is too stressful for a young talented person?" (Bonnie and Fred Waitzkin, Bonnie Waitzkin, director of chess program for gifted elementary school children, Fred Waitzkin, author, Searching for Bobby Fischer and The Last Marlin.)

"An excellent book for all parents to read! It fills a void especially for parents with kids in sports." (Joan Ryan, author, Little Girls in Pretty Boxes)

"A concise yet richly developed book on a critical topic for this century, by a well-respected psychiatrist." (Ron Kamm, M.D., vice president, International Society for Sport Psychiatry and fellow of the American Psychiatric Association)

"Tofler and DiGeronimo's pre-eminent book develops reasoned approaches to the development of healthy, successful, and talented children, while avoiding the potentially damaging, even deadly demands placed upon their young shoulders. . . . [they] have provided marvelous examples, suggestions, guidelines, and conclusions. They will show you how to define the distinctions between healthy nurturing and harmful exploitation as you bring your talented, highly talented or even genius children in a family setting." (Larry Stone, M.D., past president, American Academy of Child and Adolescent Psychiatry, Clinical Professor of Psychiatry, University of Texas Health Science Center at San Antonio)