Kellogg on Advertising and Media: The Kellogg School of Management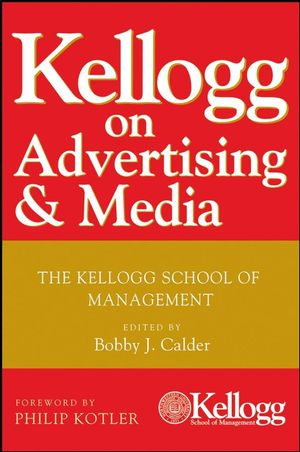 Kellogg on Advertising and Media: The Kellogg School of Management
ISBN: 978-1-118-42911-2
Jun 2012
368 pages
Description
In Kellogg on Advertising and Media, members of the world's leading marketing faculty explain the revolutionized world of advertising. The star faculty of the Kellogg School of Management reveal the biggest challenges facing marketers today- including the loss of mass audiences, the decline of broadcast television advertising, and the role of online advertising- and show you how to advertise successfully in this new reality. Based on the latest research and case studies, this book shows you how to find and engage audiences in a chaotic media climate.
Foreword (
Philip Kotler
).
Introduction: Advertising and Media (Bobby J. Calder, Northwestern University).
Chapter 1: Media Engagement and Advertising Effectiveness (Bobby J. Calder and Edward C. Malthouse, Northwestern University).
. . .linking advertising and media.
Chapter 2: Making TVa Two-Way Street: Changing Viewer Engagement through Interaction (Michael Schreiber, NBC Universal).
. . .interactive television and the effectiveness of television advertising.
Chapter 3: Advertising in theWorld of New Media (Scott Berg, Hewlett Packard).
. . ."burn the boats".
Chapter 4: Reinvention of TVAdvertising (Claudio Marcus, VisibleWorld).
. . .technology changes everything.
Chapter 5: Developments in Audience Measurement and Research (JamesWebster, Northwestern University).
. . .what's new in keeping score.
Chapter 6: Rethinking Message Strategies: The Difference between Thin and Thick Slicing (Angela Lee, Northwestern University).
. . . advertising and the unconscious.
Chapter 7: Managing the Unthinkable: What to Do When a Scandal Hits Your Brand (Michelle Roehm and Alice M. Tybout, Wake Forest University and Northwestern University).
. . .what to do when scandal hits your brand.
Chapter 8: Managing Public Reputation (Daniel Diermeier, Northwestern University).
. . .the challenge and the opportunity of uncontrolled media.
Chapter 9: The Contribution of Public Relations in the Future (Clarke Caywood, Northwestern University).
. . .corporate communications as a medium.
Chapter 10: Using THREE I Media in Business-to-Business Marketing (James Newcomb, Boeing).
. . .it's not your father's trade show.
Chapter 11: Communicating with Customers (Charles Spinosa, David Le Brocquy, and Bobby J. Calder, Vision Consulting and Northwestern University).
. . . committing the company to your advertising.
Chapter 12: Changing the Company (Julie Roehm, Backslash Meta, LLC).
. . .innovative marketing depends on organizational change.
Chapter 13: The Integration of Advertising and Media Content: Ethical and Practical Considerations (Richard Kolsky and Bobby J. Calder, Northwestern University).
. . .the endgame to the integration of advertising and media content.
About the Contributors.
Index.
Authoritative perspective on advertising from Kellogg Faculty - The #1 Business School for Marketing.

Foreword by Philip Kotler

State-of-the-art thinking from Kellogg faculty on the biggest question facing marketers - how do we communicate our message in this crazy new world where old advertising practices no longer work?