Kellogg on Branding: The Marketing Faculty of The Kellogg School of Management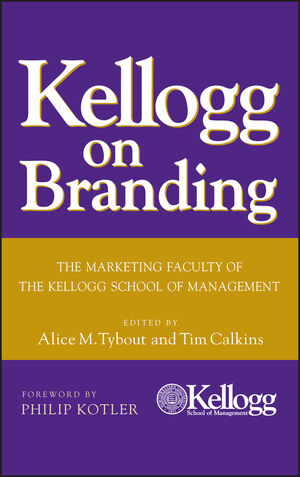 Kellogg on Branding: The Marketing Faculty of The Kellogg School of Management
ISBN: 978-1-118-04603-6 January 2011 352 Pages
Description
The Foreword by renowned marketing guru Philip Kotler sets the stage for a comprehensive review of the latest strategies for building, leveraging, and rejuvenating brands. Destined to become a marketing classic, Kellogg on Branding includes chapters written by respected Kellogg marketing professors and managers of successful companies. It includes:
The latest thinking on key branding concepts, including brand positioning and design
Strategies for launching new brands, leveraging existing brands, and managing a brand portfolio
Techniques for building a brand-centered organization
Insights from senior managers who have fought branding battles and won
This is the first book on branding from the faculty of the Kellogg School, the respected resource for dynamic marketing information for today's ever-changing and challenging environment. Kellogg is the brand that executives and marketing managers trust for definitive information on proven approaches for solving marketing dilemmas and seizing marketing opportunities.
Foreword by Philip Kotler.
Preface (Alice M. Tybout and Tim Calkins).
Acknowledgments.
Introduction: The Challenge of Branding (Tim Calkins).
Section I: Key Branding Concepts.
Chapter 1: Brand Positioning (Alice M. Tybout and Brian Sternthal).
Chapter 2: Designing Brands (Bobby J. Calder).
Chapter 3: Brand Meaning (John F. Sherry, Jr.).
Section II: Strategies for Building and Leveraging Brands.
Chapter 4: Competitive Brand Strategies (Gregory S. Carpenter and Kent Nakamoto).
Chapter 5: Brand Extensions (Bridgette M. Braig and Alice M.Tybout).
Chapter 6: Brand Portfolio Strategy (Tim Calkins).
Section III: From Strategy to Implementation.
Chapter 7: Building Brands through Effective Advertising (Brian Sternthal and Angela Y. Lee).
Chapter 8: Relationship Branding and CRM (Edward C. Malthouse and Bobby J. Calder).
Chapter 9: Brand Strategy for Business Markets (James C. Anderson and Gregory S. Carpenter).
Chapter 10: Services Branding (Amy L. Ostrum, Dawn Iacobucci, and Felicia N. Morgan).
Chapter 11: Branding in Technology Markets (Mohanbir Sawhney).
Chapter 12: Building a Brand-Driven Organization (Scott Davis).
Chapter 13: Measuring Brand Value (Don E. Schultz and Heidi F. Schultz).
Section IV: Branding Insights from Senior Managers.
Chapter 14: Using Positioning to Build a Megabrand (Mark R. Goldston, Chairman,CEO, and President, United Online).
Chapter 15: Marketing Leverage in the Frame of Reference (Mark Shapiro, Principal, New England Consulting Group).
Chapter 16: Finding the Right Brand Name (Carol L. Bernick, Chairman, Alberto-Culver Company).
Chapter 17: Building Global Brands (Betsy Holden, President, Global Marketing and Category Development, Kraft Foods).
Chapter 18: Branding and Organizational Culture (Gary A. Mecklenburg, President and CEO, Northwestern Memorial HealthCare).
Chapter 19: Branding and the Organization (E. David Coolidge III, Vice Chairman, William Blair & Company).
Chapter 20: Internal Branding (Ed Buckley, Vice President, UPS; Matt Williams, Senior Vice President, Martin Agency).
Index.
"…rich in stories…rich in insights" (The Economist, 26th November 2005)
FIFTH BOOK IN THE SUCCESSFUL KELLOGG SERIES:

Business Week has consistently rated Kellogg the #1 business school for marketing.

SOLID CONTRIBUTOR LIST: Not only does this title fit into Kellogg's most highly regarded subject area – marketing – but the contributors are leaders in the field.