Kennzahlen HGB-Jahresabschluss / Ratios HGB-Financial Statements: Deutsch - Englsich / German - English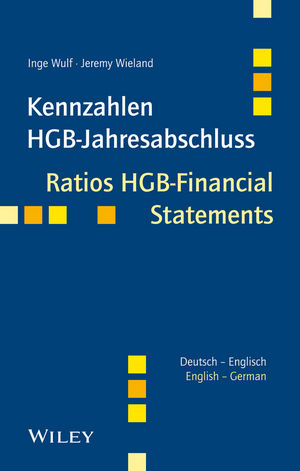 Kennzahlen HGB-Jahresabschluss / Ratios HGB-Financial Statements: Deutsch - Englsich / German - English
ISBN: 978-3-527-50698-9
Oct 2013
284 pages
Product not available for purchase
Description
Kennzahlen HGB-Jahresabschluss
Was dieses Buch bietet:
• Darstellung von über hundert wichtigen HGB-Kennzahlen in Deutsch und Englisch synoptisch gegenübergestellt
• jeweils Abbildung mit der Formel, einem Rechenbeispiel, der Aussagekraft der Kennzahl sowie ihrer Vor- und Nachteile
• Darstellung der Zusammenhänge zwischen den einzelnen Kennzahlen
• Benutzerfreundlichkeit, Verständlichkeit und Anschaulichkeit stehen im Vordergrund
Geeignet für:
Praktiker, wie zum Beispiel Analysten, Bilanzersteller, Unternehmensleitung, Kreditinstitute, sowie Studenten.
Dieses Pocketbuch lässt sich überallhin mitnehmen und
enthält alle wichtigen Informationen auf einen Blick!
Ratios HGB-Financial Statements
What this book offers:
• Display of more than one hundred important HGB ratios, synoptically arranged for English and German
• Display of each formula, calculation example and the significance of the ratio, as well as its advantages and disadvantages
• Description of the connections between individual ratios
• Focus is on user-friendliness, comprehensibility and clarity
Suited for:
Practitioners such as analysts or accountants, business management, financial institutions and also students.
This pocket book can be taken anywhere and contains all important information at a glance!
Vorwort 18
1 Beispiel-Unternehmen 21
1.1 Bilanz 22
1.2 Gewinn- und Verlustrechnung 26
1.3 Weitere Angaben 28
2 Kennzahlen zur Vermçgenslage 35
2.1 Anlagenintensität 36
2.2 Sachanlagenintensität 38
2.3 Immaterialanlagenintensität 40
2.4 Vermçgensstruktur 42
2.5 Verbundvermçgen 44
2.6 Umlaufintensität 46
2.7 Vorrats- und Forderungsintensität 48
2.8 Investitionsquote (Sachanlagevermçgen (SAV)) 50
2.9 Investitionsquote (Finanzanlagevermçgen (FAV)) 52
2.10 Wachstumsquote (SAV) 54
2.11 Investitionsdeckung (SAV) 56
2.12 Anlagenabnutzungsgrad (SAV) 58
2.13 Abschreibungsquote (SAV) 60
2.14 Investiertes Kapital 62
2.15 Umschlagshäufigkeit des Gesamtvermçgens 64
2.16 Umschlagshäufigkeit des Sachanlagevermçgens 66
2.17 Umschlagshäufigkeit des Umlaufvermçgens 68
2.18 Bindungsdauer des Vorratsvermçgens 70
2.19 Beschftigung (= Kapazittsauslastung) 72
2.20 Investitionen in % des Umsatzes 74
2.21 Sachanlagen zu Umsatz 76
2.22 Stille Reserven/stille Lasten 78
Preface 19
1 Company example 21
1.1 Balance Sheet 23
1.2 Profit and loss statement 27
1.3 Further disclosures 29
2 Asset Ratios 35
2.1 Fixed asset intensity 37
2.2 Property, plant and equipment (PPE) intensity 39
2.3 Intangible fixed asset intensity 41
2.4 Asset structure 43
2.5 Group assets 45
2.6 Current asset intensity 47
2.7 Inventory and receivables intensity 49
2.8 Investment ratio (property, plant and equipment (PPE)) 51
2.9 Investment ratio (financial assets (FA)) 53
2.10 Growth rate (PPE) 55
2.11 Investment coverage (PPE) 57
2.12 Degree of asset depreciation (PPE) 59
2.13 Depreciation rate (PPE) 61
2.14 Invested capital 63
2.15 Total asset turnover 65
2.16 Turnover ratio of property, plant and equipment (PPE) 67
2.17 Turnover ratio of current assets 69
2.18 Commitment period of inventories 71
2.19 Capacity utilization 73
2.20 Investment as percentage of revenue 75
2.21 Ratio of property, plant and equipment (PPE) to revenue 77
2.22 Hidden reserves/hidden liabilities 79
2.23 Kundenziel 80
2.24 Debitorenumschlag 82
3 Kennzahlen zur Finanzlage 85
3.1 Bilanzanalytisches Eigenkapital 86
3.2 Bereinigtes Eigenkapital 88
3.3 Eigenkapitalquote 90
3.4 Rücklagenquote 92
3.5 Selbstfinanzierungsgrad 94
3.6 Langfristkapitalanteil 96
3.7 Fremdkapitalquote 98
3.8 Fremdkapitalquote (kurzfristig) 100
3.9 Fremdkapitalstruktur 102
3.10 Rückstellungsquote 104
3.11 Statischer Verschuldungsgrad 106
3.12 Deckungsgrad A 108
3.13 Deckungsgrad B 110
3.14 Goldene Finanzierungsregel 112
3.15 Effektivverschuldung (absolut) 114
3.16 Effektivverschuldung (relativ) 116
3.17 Tilgungsfähigkeit 118
3.18 Kreditorenlaufzeit 120
3.19 Kreditorenumschlagshäufigkeit 122
3.20 Geldumschlagsdauer 124
3.21 Liquidität 1. Grades 126
3.22 Liquidität 2. Grades 128
3.23 Liquidität 3. Grades 130
3.24 Working Capital (absolut) 132
3.25 Working Capital (relativ) 134
3.26 Kapitalbindungsdauer 136
2.23 Customer payment target 81
2.24 Accounts receivable turnover 83
3 Financial Standing Ratios 85
3.1 Balance sheet analytical equity 87
3.2 Adjusted equity 89
3.3 Equity ratio 91
3.4 Reserves ratio 93
3.5 Self-financing rate 95
3.6 Long-term capital share 97
3.7 Debt ratio 99
3.8 Debt ratio (short-term) 101
3.9 Debt structure 103
3.10 Provisions rate 105
3.11 Static debt-equity ratio 107
3.12 Coverage ratio A 109
3.13 Coverage ratio B 111
3.14 Golden rule of financing 113
3.15 Effective debt (absolute) 115
3.16 Effective debt (relative) 117
3.17 Redemption capability 119
3.18 Days payable outstanding (DPO) 121
3.19 Payables turnover ratio 123
3.20 Cash conversion cycle (CCC) 125
3.21 First-degree liquidity 127
3.22 Second-degree liquidity 129
3.23 Third-degree liquidity 131
3.24 Working capital (absolute) 133
3.25 Working capital (relative) 135
3.26 Capital commitment period 137
4 Kennzahlen zur Erfolgsanalyse 139
4.1 (Ordentliches) Betriebsergebnis 140
4.2 (Ordentliches) Finanzergebnis 142
4.3 Unregelmßiges Jahresergebnis 144
4.4 Jahresergebnis, bereinigtes Jahresergebnis 146
4.5 Ergebnis nach DVFA/SG 148
4.6 Earnings Before Taxes (EBT) 150
4.7 Earnings Before Interest and Taxes (EBIT) 152
4.8 Earnings Before Interest, Taxes and Amortization (EBITA); Earnings Before Interest, Taxes, Depreciation and Amortization (EBITDA) 154
4.9 Net Operating Profit After Taxes (NOPAT) 156
4.10 Materialintensität 158
4.11 Personalintensität 160
4.12 Abschreibungsintensität 162
4.13 F+E-Intensität 164
4.14 Herstellungskostenintensität (nur bei Erfolgsrechnung nach UKV) 166
4.15 Verwaltungs- und Vertriebsintensität (nur bei Erfolgsrechnung nach UKV) 168
4.16 Zinsdeckungsgrad 170
4.17 Steuerquote 172
4.18 Eigenkapitalrentabilität (EKR) 174
4.19 Gesamtkapitalrentabilität 176
4.20 Betriebsvermçgensrentabilität 178
4.21 Return On Capital Employed (ROCE), Return On Invested Capital (ROIC) 180
4.22 Umsatzrentabilität 182
4.23 EBIT-Marge 184
4.24 Bruttoergebnismarge 186
4.25 Return On Investment (ROI) 188
4 Performance Analysis Ratios 139
4.1 (Ordinary) operating result 141
4.2 (Ordinary) financial result 143
4.3 Irregular annual result 145
4.4 Annual result, adjusted annual result 147
4.5 Results according to DVFA/SG 149
4.6 Earnings before taxes (EBT) 151
4.7 Earnings before interest and taxes (EBIT) 153
4.8 Earnings before interest, taxes and amortization (EBITA); Earnings before interest, taxes, depreciation and amortization (EBITDA) 155
4.9 Net operating profit after taxes (NOPAT) 157
4.10 Material intensity 159
4.11 Staffing intensity 161
4.12 Depreciation intensity 163
4.13 R&D intensity 165
4.14 Production cost intensity (only for income statements according to the function of expense method) 167
4.15 Administration and distribution intensity (only for the function of expense method) 169
4.16 Interest coverage ratio 171
4.17 Tax ratio 173
4.18 Return on equity (ROE) 175
4.19 Return on total capital 177
4.20 Return on operating assets 179
4.21 Return on capital employed (ROCE), Return on invested capital (ROIC) 181
4.22 Return on sales 183
4.23 EBIT-margin 185
4.24 Gross profit margin 187
4.25 Return on investment (ROI) 189
4.26 Beteiligungsrendite 190
4.27 Zinsbelastung 192
5 Besonderheiten der Konzernabschlussanalyse 195
5.1 Cashflow aus laufender Geschäftstätigkeit – Ermittlungsmethoden 196
5.2 Cashflow aus laufender Geschäftstätigkeit (überschlägig bzw. gemäß sog. Praktiker-Formel) 198
5.3 Cashflow aus laufender Geschäftstätigkeit (DRS 2) 200
5.4 Free Cashflow 202
5.5 Cashflow aus Investitionstätigkeit (DRS 2) 204
5.6 Cashflow aus Finanzierungstätigkeit (DRS 2) 206
5.7 Innenfinanzierungskraft 208
5.8 Entschuldungsgrad 210
5.9 Dynamischer Verschuldungsgrad 212
5.10 Wachstumsmçglichkeiten 214
5.11 Cashflow-Marge 216
5.12 Investitionsgrad 218
5.13 Cashflow-Deckungskraft 220
5.14 Cash-Burn-Rate 222
5.15 Capex zu Abschreibungen 224
5.16 Capex zu Umsatz 226
5.17 Umsatzanteil des Segments 228
5.18 Segmentrendite 230
5.19 Wachstumsquote des Segments 232
6 Kennzahlen zur Unternehmensbewertung 235
6.1 Bilanzkurs 236
6.2 Bçrsenkurs 238
6.3 Marktkapitalisierung 240
6.4 Marktwert-Buchwert-Relation 242
4.26 ROI from Holdings 191
4.27 Interest charge 193
5 Particularities concerning the analysis of consolidated financial statements 195
5.1 Cash flow from operating activities – calculation methods 197
5.2 Cash flow from operating activities (estimated respectively according to practitioner-formula) 199
5.3 Cash flow from operating activities (according to GAS 2) 201
5.4 Free cash flow 203
5.5 Cash flow from investing activities (GAS 2) 205
5.6 Cash flow from financing activities (GAS 2) 207
5.7 Internal financing capacity 209
5.8 Degree of debt relief 211
5.9 Dynamic debt ratio 213
5.10 Growth opportunities 215
5.11 Cash flow margin 217
5.12 Degree of investment 219
5.13 Cash flow coverage 221
5.14 Cash-burn rate 223
5.15 Capex to depreciation 225
5.16 Capex to revenue 227
5.17 Segment's share of revenue 229
5.18 Segment return 231
5.19 Segment's growth rate 233
6 Ratios for Business Valuation 235
6.1 Balance sheet rate 237
6.2 Market rate 239
6.3 Market capitalization 241
6.4 Market to book value 243
6.5 Ergebnis je Aktie (unverwässert) 244
6.6 Ergebnis je Aktie (verwässert) 246
6.7 Kurs-Gewinn-Verhltnis (KGV) 248
6.8 Dynamisches Kurs-Gewinn-Verhältnis (KGV) 250
6.9 Ausschüttungsquote 252
6.10 Dividendenrendite 254
6.11 Gewichtete durchschnittliche Kapitalkosten (WACC: Weighted Average Cost of Capital) 256
6.12 Economic Value Added (EVA) 258
6.13 Market Value Added (MVAex ante) 260
6.14 Cashflow Return On Investment (CFROI) 262
6.15 Cash Value Added 264
6.16 Shareholder Value 266
6.17 Unternehmenswert auf Basis von Discounted Cashflow (DCF) 268
Literatur 271
Über die Autoren 273
Stichwortverzeichnis 275
6.5 Earnings per share (undiluted) 245
6.6 Earnings per share (diluted) 247
6.7 Price-earnings ratio (P/E ratio or PER) 249
6.8 Dynamic P/E ratio 251
6.9 Payout ratio 253
6.10 Dividend yield 255
6.11 Weighted average cost of capital (WACC) 257
6.12 Economic value added (EVA) 259
6.13 Market value added (MVAex ante) 261
6.14 Cash flow return on investment (CFROI) 263
6.15 Cash value added 265
6.16 Shareholder value 267
6.17 Business value based on discounted cash flows (DCF) 269
References 271
About the Authors 273
Index 281