Kerr's Cost Data for Landscape Construction: 1994 Unit Prices for Site Development, 14th Edition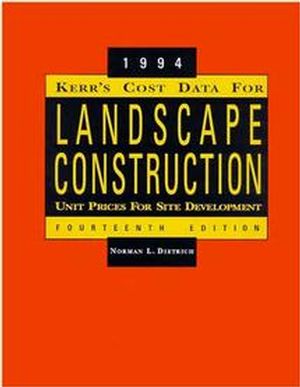 Kerr's Cost Data for Landscape Construction: 1994 Unit Prices for Site Development, 14th Edition
ISBN: 978-0-471-28619-6
Feb 1994
224 pages
Description
A classic in the field, this comprehensive reference provides current information for readers who need to estimate the construction costs of landscape architecture projects. Written by a professor of landscape architecture at Iowa State University, this guide provides unit prices easily combined to fit specific job requirements. Coverage includes per diems, crew and equipment, installation, and materials.
Demolition.

Site Preparation.

Earthwork.

Marine Work.

Paving and Surfacing.

Sewerage and Drainage.

Site Improvements.

Planting.

Concrete Formwork.

Concrete Reinforcement.

Concrete Accessories.

Cast-In-Place-Concrete.

Masonry Accessories.

Stone.

Metal Fabrication.

Ornamental Metal.

Rough Carpentry.

Timber Construction.

Shingles and Roofing.

Tiles.

Lath and Plaster.

Painting.

Flagpoles.

Athletic and Recreational Equipment.

Pre-Engineered Structures.

Electrical Materials.

Service and Distribution.

Lighting.

Appendices.

Index.