Key Concepts in VCE Business Management Units 3 & 4 3e eBookPLUS (Online Purchase)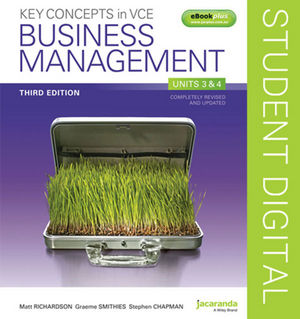 Key Concepts in VCE Business Management Units 3 & 4 3e eBookPLUS (Online Purchase)
ISBN: 978-0-730-31833-0
Feb 2015, Jacaranda
Product not available for purchase
Description

Key Concepts in VCE Business Management Units 3 & 4 3rd Edition eBookPLUS provides an innovative way of structuring learning by solving key problems:
• How can students of all abilities be engaged and motivated (including the most able students)?
• How can current real-world examples be brought into the classroom?
• How can students be best prepared for their exams?

KEY FEATURES

• Revised and up-to-date case studies, business statistics and legislation
• Case studies incorporating the latest business news, views and trends
• Latest trends in human resource management and change management
• Key knowledge points from VCAA VCE study design
• Highly visual, digestible, lesson-based sections
• Chapter summaries, school-assessed coursework tasks and review questions


Key Concepts in VCE Business Management Units 3 & 4 3rd Edition eBookPLUS is a digital-only version of the textbook that provides access to all the course content. It also includes a wealth of multimedia resources, accessed through our JacarandaPLUS website (www.jacplus.com.au/).




> eBookPLUS resources include:

• Videos featuring Australian businesses, with worksheets
• A glossary, crossword and missing-word glossary quiz for each chapter
• VCAA VCE exam questions
• School-assessed coursework designed in Microsoft Word for easy customisation
• Weblinks to key business bodies and teacher support resources - eGuidePLUS
• Access from any digital device: PC/MAC/iPad/Android Tablet
• eBookPLUS resources are cost effective, ranging in price from $25.95 - $53.95 depending on your subject area.
UNIT 3 Corporate management
1. Large-scale organisations in context
2. Internal environment of large-scale organisations
3. The operations management function
UNIT 4 Managing people and change
4. The human resource management function — factors involved
5. The human resource management function — the employment cycle
6. The human resource management function — employee relations
7. The management of change
Acknowledgements