Key Contemporary Social Theorists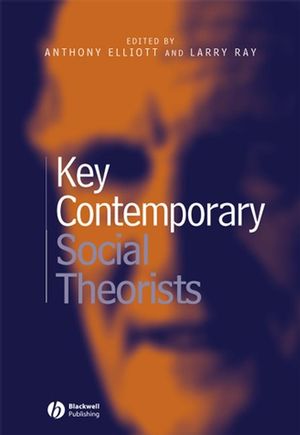 Key Contemporary Social Theorists
ISBN: 978-0-631-21972-9 October 2002 Wiley-Blackwell 308 Pages
Description
Key Contemporary Social Theorists is a comprehensive introduction to some of the most significant figures in social, cultural, political and philosophical thought of the twentieth century. This collection of newly commissioned entries offers students and scholars an authoritative guide on current contributions to contemporary social theory and social science. Preceding the entries is a well-organized chart of the main trends of development in social theory. The result is an invaluable reference work for all those concerned with central issues in contemporary social theory.
ntroduction. Anthony Elliott and Larry Ray.
1. Theodor Adorno: Maggie O'Neill.
2. Jeffrey Alexander: Paul Colomy.
3. Louis Althusser: Ted Benton.
4. Hannah Arendt: Phillip Hansen.
5. Jean Baudrillard: Rex Butler.
6. Zygmunt Bauman: Ian Varcoe.
7. Ulrich Beck: Joost van Loon.
8. Daniel Bell: Malcolm Waters.
9. Jessica Benjamin: Kay Torney Souter.
10. Walter Benjamin: Howard Caygill.
11. Homi Bhabha: Bart Moore-Gilbert.
12. Maurice Blanchot: Kevin Hart.
13. Pierre Bourdieu: Don Miller.
14. Manuel Castells: Nick Stevenson.
15. Nancy Chodorow: Diane Tietjens Meyers.
16. Gilles Deleuze: Claire Colebrook.
17. Jacques Derrida: Roy Boyne.
18. Norbert Elias: Robert van Kriekan.
19. Michel Foucault: Gerard Delanty.
20. Hans-Georg Gadamer: David West.
21. Anthony Giddens: Anthony Elliott.
22. Erving Goffman: Yves Winkin.
23. Jürgen Habermas: William Outhwaite.
24. Stuart Hall: Michael Kenny.
25. Max Horkheimer: Larry Ray.
26. Luce Irigaray: Kwok Wei Leng.
27. Fredric Jameson: Andrew Milner.
28. Julia Kristeva: John Lechte.
29. Jacques Lacan: Stephen Frosh.
30. Claude Levi-Strauss: Zygmunt.
31. Niklas Luhman: Dieter Rucht.
32. Jean Francois Lyotard: James Williams.
33. Herbert Marcuse: Jem Thomas.
34. Claus Offe: John Dryzek.
35. Richard Rorty: Matthew Festenstein.
36. Eve Kosofsky Sedgwick: Annamarie Jagose.
37. Alain Touraine: Kevin McDonald.
38. Bryan S Turner: Barry Smart.
39. Paul Virilio: Scott McQuire.
40. Raymond Williams: Andrew Milner.
41. Slavoj Zizek: Anthony Elliott.
"This is a very good book, which successfully achieves the editors' aims of encouraging engagement with the key processes of the contemporary period. I have no doubt that its brief introductions and suggestions for further reading will prove very useful to those new to contemporary social theory, but keen to learn more. I would be pleased to recommend it to my students."
Steven Groarke, University of Surrey
"This volume will be useful for anyone seeking to chart the terrain of contempoary social theory ... the work covers much ground and will undoubtedly be a handy reference for students of social and cultural theory." Ian Tregenza, Australian Journal of Political Science


Contains up-to-date coverage of key theorists in sociology, social theory, philosophy, cultural studies, feminism, psychoanalysis and philosophy.


Theorists covered include Benjamin, Elias, Goffman, Lacan, Said, Jameson, Heidegger, Giddens, Bauman, Williams, and many others.


Each essay describes the life of the theorist, main ideas, and key criticisms.


Includes boxed-out sections to aid the reader.


Covers key schools of social thought - including critical theory, structuralism, post-structuralism, hermeneutics, psychoanalysis, systems theory, structuration theory, action theory, feminism and postmodernism.


Internationally recognized editors and contributions from internationally distinguished authors, as well as more recently published authors.