Key Notes on Plastic Surgery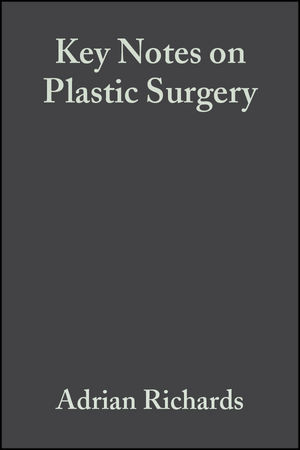 Key Notes on Plastic Surgery
ISBN: 978-1-405-14672-2 April 2008 Wiley-Blackwell 328 Pages
Description
This is the new edition of the concise but comprehensive handbook that should be owned by all surgical trainees specialising in plastic surgery. Taking a pithy systematic approach, Key Notes on Plastic Surgery offers the latest developments within the field in bullet point form and includes key papers for viva voces. It is informed by the current FRCS (Plast) curriculum, making it ideal preparation for the UK exit examination or equivalent international board exam.
Key features include
Full coverage of the entire scope of plastic surgery
Clearly divided into 10 sections with logical subheadings for easy fact-finding
Brand new chapter on ethics and the law – a compulsory component of the oral examination
Illustrations outlining key surgical procedures and relevant anatomy
Fully revised to include all the latest clinical guidelines, Key Notes on Plastic Surgery is the perfect rapid reference tool for trainees in plastic surgery and dermatologic surgery who require quick, accurate answers.
Table of contents
Foreword.
Preface.
Acknowledgements.
Abbreviations.
Section 1: General principles.
Skin structrue and function; Blood supply of the skin; Classification of flaps; Geometry of local flaps; Wound; healing and skin grafts; Bone healing and bone grafts Nerve healing and nerve grafts; Tendon healing; Tissue tranplantation; Alloplastic implantation; Dressings; Sutures and suturing; Tissue expansion.
Section 2: Skin and soft tissue lesions.
Benign non-pigmented skin lesions; Benign pigmented skin lesions; Malignant non-pigmented skin lesions; Malignant melanoma; Sarcoma.
Section 3: The head and neck.
The embryology of the head and neck; Craniofacial surgery; Cleft lip; Cleft palate; Head and neck cancer; Facial fractures and soft tissue injuries; Oculoplastic surgery; Facial palsy; Abnormalities of the ear; Vascular abnormalities.
Section 4: Plastic surgery of the breast and chest wall.
The anatomy of the breast; Breast reduction; Mastopexy; The tuberous breast; Gynaecomastia; Breast augmentation; Breast cancer; Breast reconstruction; Reconstruction of the chest wall.
Section 5: The upper limb.
The embryology of the upper limb; Congenital deformities of the upper limb; Nerve compression in the upper limb; Tendon transfers in the upper limb; Dupuytren's disease; Tumours of the upper limb; Arthritis of the upper limb; Hand infections.
Section 6: The lower limb.
Leg ulcers; Lower limb trauma; Lymphoedema; Pressure sores.
Section 7: Plastic surgery of the urogenital system.
Hypospadias; Epispadias and exstrophy of the bladder; Ambiguous genitalia; Vaginal reconstruction.
Section 8: Burns.
Thermal burns and inhalational injury; Chemical burns; Electrical burns.
Section 9: Microsurgery.
The history of microsurgery; Vessel healing and thrombosis; Reperfusion injury; Microvascular equipment and technique; The post-operative management of free tissue transfers; The post-operative monitoring of free tissue transfers; The management of the non-flowing anastomosis.
Section 10: Aesthetic surgery.
Blepharoplasty; Face-lifting; Rhinoplasty; Liposuction.
Index
Reviews
"This is a plastic surgery book with a difference. This contains only the meat without all the unnecessary trimming".
-Ian T Jackson, M D, Director of Craniofacial & Reconstructive Surgery, Institute for Craniofacial & Reconstructive Surgery.
"...an excellent compendium of keynotes on plastic surgery and Adrian Richards is to b congratulated".
Nicholas Parkhouse, DM, MCh, FRCS, Editor, British Journal of Plastic Surgery
"It is a well thought out, succinct distillation of notes and observations relevant to the Syllabus in Plastic Surgery. I have no hesitation in recommending its use as a quick reference and revision aid".
Features
*Short succinct book covering the scope of plastic surgery
*Divided into 10 sections each containing information on the major subcategories of plastic surgery
*Has an even balance between depth and detail
*Covers an enormous range of sub-specialist areas of plastic surgery