Key Terms in Language and Culture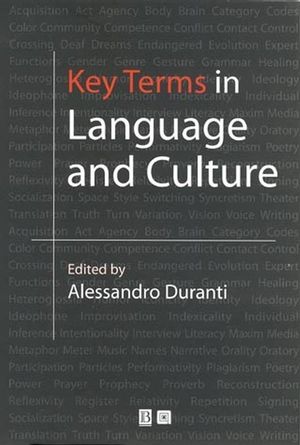 Key Terms in Language and Culture
ISBN: 978-0-631-22665-9 January 2001 Wiley-Blackwell 300 Pages
Description
Key Terms in Language and Culture is a new collection of 75 short original essays written by leading scholars in linguistic anthropology and related fields, and covering the major issues in the contemporary study of language and culture. Together these essays provide a lexicon of language from an anthropological perspective. Each essay includes a brief description of a key concept, the issues associated with the concept, and the major contributions to its study. There is a set of suggested readings at the end of each essay that provides readers with a good starting point for a further study.
Preface: Alessandro Duranti.
1. Acquisition: Susan Ervin-Tripp.
2. Act: Marina Sbisà.
3. Agency: Laura M. Ahearn.
4. Body: Mariella Pandolfi.
5. Brain: John Schumann.
6. Category: Ward H. Goodenough.
7. Codes: Celso Alvarez-Caccamo.
8. Color: Paul Kay.
9. Community: Marcyliena H. Morgan.
10. Competence: Jack Sidnell.
11. Conflict: Marco Jacquemet.
12. Contact: Christine Jourdan.
13. Control: Allen D. Grimshaw.
14. Crossing: Ben Rampton.
15. Deaf: Carol Padden.
16. Dreams: Laura R. Graham.
17. Endangered: Robert E. Moore.
18. Evolution: Kathleen R. Gibson.
19. Expert: Aaron Cicourel.
20. Functions: Michael Silverstein.
21. Gender: Mary Bucholtz.
22. Genre: Richard Bauman.
23. Gesture: John B. Haviland.
24. Grammar: John W. DuBois.
25. Healing: James Wilce.
26. Heteroglossia: Vyacheslav Ivanov.
27. Humor: William O. Beeman.
28. Iconicity: Bruce Mannheim.
29. Identity: Paul V. Kroskrity.
30. Ideology: Joseph Errington.
40. Ideophone: Dennis Tedlock.
41. Improvisation: R. Keith Sawyer.
42. Indexicality: William F. Hanks.
43. Individual: Barbara Johnstone.
44. Inference: John J. Gumperz.
45. Intentionality: Alessandro Duranti.
46. Interview: Charles Briggs.
47. Literacy: Niko Besnier.
48. Maxim: Stephen C. Levinson.
49. Media: Debra Spitulnik.
50. Metaphor: Bran Ben-Amos.
51. Meter: Giorgio Banti.
52. Music: Steven Feld & Aaron Fox.
53. Names: Betsy Rymes.
54. Narrative: Harriet E. Manelis Klein.
55. Orality: Alan Rumsey.
56. Oratory: Joel Kuipers.
57. Participation: Marjorie H. Goodwin.
58. Particles: Haruko M. Cook.
59. Performativity: Kira Hall.
60. Plagiarism: Ron Scollon.
61. Poetry: Dell Hymes.
62. Power: Susan Philips.
63. Prayer: Patricia Baquedano-Lopez.
64. Prophecy: John Leavitt.
65. Proverb: Kwesi Yankah.
66. Reconstruction: Victor Golla.
67. Reflexivity: John A. Lucy.
68. Register: Asif Agha.
69. Relativity: Alessandro Duranti.
70. Repetition: Penelope Brown.
71. Signing: Leila Monaghan.
72. Socialization: Elinor Ochs.
73. Space: Elizabeth Keating.
74. Style: Norma Mendoza-Denton.
75. Switching: Benjamin Bailey.
76. Syncretism: Jane H. Hill.
77. Theater: Ingjerd Hoëm.
78. Translation: Regna Darnell.
79. Truth: Susan D. Blum.
80. Turn: Sally Jacoby.
81. Variation: John Baugh.
82. Vision: Charles Goodwin.
83. Voice: Webb Keane.
84. Writing: Antonio Perri.
"Exploratory, generous, clear, and provocative, Key Terms in Language and Culture is an invaluable resource for any scholar concerned with the role and shape of language and communication in human lives, both present and past. Beyond this, it makes explicit the many complex but tightly woven links between language and culture, demonstrating with energy and to good effect the multiple ways in which language indeed matters."
Don Brenneis, University of California at Santa Cruz
"This book is a unique collection -a set of key terms and definitions by many of the leading scholars in linguistic anthropology. An excellent overview and orientation to the study of language in culture, it is filled with gems of condensed yet clear formulation and stimulating commentary. A model of collaborative enterprise." Susan Gal, University of Chicago

"This volume, which includes contributions by some of the leading scholars in the field, is a unique companion for introductory courses in language and culture and advanced seminars in anthropology." Discourse Studies
Collection of 75 original essays written by leading scholars in linguistic anthropology.

Organized as a set of 1000-word entries, the collection provides an overview of language from an anthropological perspective>

Each entry defines a key concept and includes associated issues and recommended readings.