Key Terms in Popular Music and Culture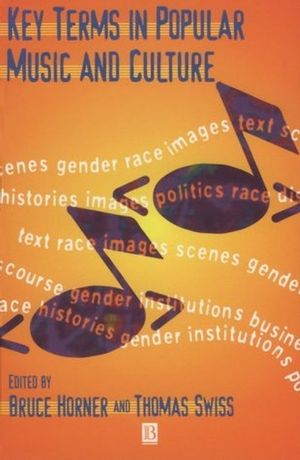 Key Terms in Popular Music and Culture
ISBN: 978-0-631-21264-5
Nov 1999, Wiley-Blackwell
274 pages
Description
Original essays by leading scholars in the field of popular music studies map the competing perspectives on the key terms of contemporary debates on popular music and culture. Each essay describes the history of continuities and conflicts in a term's meaning, situating the writer's own position on the term in that history of debate.

Providing a invaluable overview of the current state of popular music discourse, the collection will be useful both to those new to the study of popular music and those already well-versed in popular music and cultural studies.
Acknowledgments.
Notes on contributors.
Introduction: Putting It Into Words: Key Terms for Studying Popular Music; Bruce Horner (Drake University) and Thomas Swiss (Drake University).
Part I: Locating Popular Music in Culture:.
1. Ideology: Lucy Green (University of London).
2. Discourse: Bruce Horner (Drake University).
3. Histories: Gilbert Rodman (University of South Florida).
4. Institutions: David Sanjek (BMI Archives).
5. Politics: Robin Balliger (Stanford University).
6. Race: Russell Potter (Rhode Island College).
7. Gender: Holly Kruse (La Salle University).
8. Youth: Deena Weinstein (DePaul University).
Part II: Locating Culture in Popular Music.
9. Popular: Anahid Kassabian (Fordham University).
10. Music: David Brackett (SUNY Binghamton).
11. Form: Richard Middleton (University of Newcastle upon Tyne).
12. Text: John Shepherd (Carleton University).
13. Images: Cynthia Fuchs (George Mason University).
14. Performance: David Shumway (Carnegie Mellon University).
15. Authorship: Will Straw (McGill University).
16. Technology: Paul Theberge (Concordia University).
17. Business: Mark Fenster (Yale Law School) and Thomas Swiss (Drake University).
18. Scenes: Sara Cohen (University of Liverpool).
Index.
"The book features an excellent roster of authors and will make a valuable companion to popular-music studies, histories and surveys" CHOICE
* Original essays by leading scholars in the field of popular music studies.
* Presents relation of cultural study terms (ideology, institutions, and gender) to popular music, as well as the relation of terms in popular music discourse (music, form, and performance) to culture.
* Maps the competing perspectives and debates on popular music and culture