Kickin' Bot: An Illustrated Guide to Building Combat Robots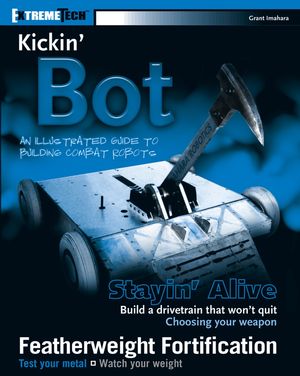 Kickin' Bot: An Illustrated Guide to Building Combat Robots
ISBN: 978-0-764-54113-1
Dec 2003
528 pages
Product not available for purchase
Description
Enter the arena of the metal gladiators

Do you have what it takes to build a battle-ready robot? You do now. Here are the plans, step-by-step directions, and expert advice that will put you in competition-while you have a heck of a lot of fun getting there.

Grant Imahara, the creator of the popular BattleBot Deadblow, shares everything he's learned about robot design, tools and techniques for metal working, the parts you need and where to get them, and plenty of tips to keep you off the ropes. When you're finished, you'll be ready to rumble.

Just a few of the topics you'll learn:
Robot design 101
Chemicals and power tools
Popular materials compared
Cutting your armor
Things to know about screws
Top ten drive motors
Bearings, casters, couplers, and U-joints
Roller chains and sprockets
Better traction through chemistry
Choosing speeding controls
Batteries and wiring
The driving test
Rammers, hammers and crushers
Dedication.
About the Author.
Foreword.
Acknowledgments.
Introduction.
Chapter 1: Getting Started.
Chapter 2: Designing the Robot.
Chapter 3: Tools of the Trade.
Chapter 4: Selecting Materials.
Chapter 5: Cutting Metal.
Chapter 6: Shaping and Finishing Metal.
Chapter 7: Drilling and Tapping Holes.
Chapter 8: Fasteners—Holding It All Together.
Chapter 9: Selecting Drive Motors.
Chapter 10: Mechanical Building Blocks.
Chapter 11:Working with Roller Chain and Sprockets.
Chapter 12: Let's Get Rolling.
Chapter 13: Choosing Your Control System.
Chapter 14: Choosing Speed Controls.
Chapter 15: Choosing Batteries.
Chapter 16:Wiring the Electrical System.
Chapter 17: The First Test Drive.
Chapter 18: Choose Your Weapon.
Chapter 19: Troubleshooting.
Chapter 20: Going to a Competition.
Appendix A: Advanced R/C Programming.
Appendix B: IFI System Programming and Troubleshooting.
Appendix C: Pneumatics.
Appendix D: Online Resources.
Appendix E: Catalogs.
Appendix F: Tables and Charts.
Index.