Kickstart Your Time Management: The Complete Guide to Great Work Habits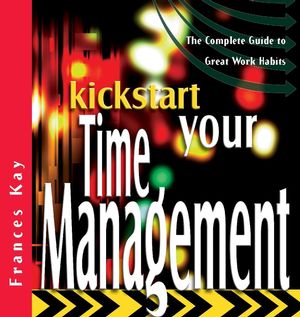 Kickstart Your Time Management: The Complete Guide to Great Work Habits
ISBN: 978-1-841-12481-0
Jun 2003, Capstone
204 pages
Description
Effective time management is an issue which affects our working routines, as well as our lives outside of work. An effective regime will help alleviate stress, free up time for more personal interests, as well as help put some order and direction into your life. Kickstart Your Time Management is full of useful hints, tips and techniques to keep the thieves of time at bay.
Chapter 1: Time Management – what is it?
The time and stress crisis.
Why are we always so short of time.
Some common assumptions.
Main issues.
Chapter 2: What sort of person are you?
Knowing ourselves is the key to success.
Activity analysis exercise.
Understanding the difficulties.
Reactive and proactive behaviour.
Challenge ourselves.
Chapter 3: Making a start. Good habits v. bad.
How to adapt.
Action plan for time management.
What needs to be changed to succeed.
Goals that are worth the effort.
Chapter 4: Stressed? Health related issues and work/life balance.
Coping with stress.
Defining positive and negative stress situations.
Why try to do it all?
Creating personal reserves.
Chapter 5: Time Management in the home.
When did we last read a book?
How to meet the demands of domestic life.
Stop trying to prove we're perfect.
Avoiding exploitation – lighten the load.
Chapter 6: Time Management at work.
All the Ds : de legating, deadlines, drop it or do it.
Interruptions and how to deal with them.
Focus on the present.
Developing contingency plans.
Chapter 7: People management – clients and staff; friends and family.
Communicating effectively.
Introducing boundaries – without causing offence.
How to spot the HMPs in your life (High Maintenance People).
Assertive techniques for dealing with awkward situations.
Chapter 8: How to manage technology and make the most of it.
Beating the gremlins.
Coping with glitches, problems and catastrophes.
Fighting the paper war.
Reduce those piles.
Alternative ways of dealing with internal communications.
Chapter 9: Meetings – social and professional – the classic time wasters.
Goals for success – planning, agendas, time keeping, focus.
Are we sitting too comfortably?
Knowledge management – controlling information and knowledge.
What to keep and how to find it.
Record keeping, contacts data base.
Simple systems that work.
Chapter 10: Maintenance plan.
Keeping up the good work.
Positive approaches to self-management.
Checklists and tracker sheets.
Suggestions as to how to keep motivated.
Sources of further reading.
Index.
"a straightforward guide to managing time more effectively, whether at work or at home." (People Management, 26 June 2003)
"…comprises really valuable tips and advice on a crucial subject: time management…" (Training Journal, November 2003)