Kids and School Reform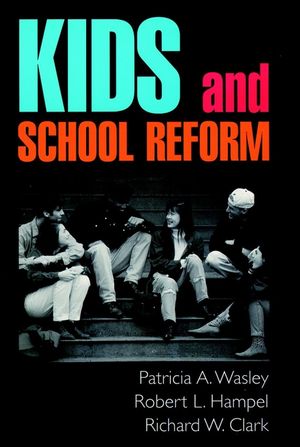 Kids and School Reform
ISBN: 978-0-787-91065-5
Sep 1997, Jossey-Bass
272 pages
Description
A wonderfully useful, hones and comprehensive book, one which does not oversimplify the condition and the opportunities of the public schools.


--Theodore R. Sizer, chairman, Coalition of Essential Schools

Based on an extensive, in-depth study of 150 students from across the country, Kids and School Reform offers a student perspective on schools that are transforming themselves. Using extended vignettes and the actual voices and stories of five students who differ in personality, economic and personal circumstances, and academic achievement, the authors show how reform efforts affect kids and what changes matter the most. The five high schools studied are part of the Coalition of Essential Schools.
Connecting Kids to School Reform.

Routines and Repertioire.

Caring and Expectations.

Rigor and Innovation.

Scale and Discourse.

Kids, Connections, and Commitments.
"With its emphasis on the real people involved, this book gets readers thinking about the impact of reform on kids--and offers some excellent advice in the bargain." (Educational Leadership)

"The actual voices and stories of the students, when coupled with extended vignettes, make for interesting reading. The authors' inclusion of comments from teachers and administrators provides invaluable insights for readers eager to support educational reform that truly benefits students." (The School Administrator)

"Parents, administrators, and teachers whether they are working for school reform or supporting the status quo will find their interests represented by the stories of kids linked to school reform." (Journal of Adolescent & Adult Literacy)

"This is a wonderful book. It takes an unusually honest and penetrating look at educational practice and its effects on students, parents, and faculty." (Carl Glickman, author of Renewing America's Schools)

"'It's all for the children' is among the emptiest of the cliches accompanying school reform. Here, at last, are the inside stories of real students engaged with real teachers in five high schools committed to fundamental change. The language of the telling is as fresh as the insights conveyed." (John I. Goodlad, professor emeritus and co-director, Center for Educational Renewal, University of Washington)

"This study has the courage to look broadly at the ways and means of school change, with all its twists and turns, enthusiasms and disappointments. Wasley, Hampel and Clark take pains to directly engage the school people and the students who are their dramatis personae, deepening the meanings they elicit and the scope of their work. Their ultimate focus on students is a breath of fresh air in research of this kind. A wonderfully useful, honest, and comprehensive book, one which does not oversimplify the condition and the opportunities of the public schools." (Theodore R. Sizer, chairman, Coalition of Essential Schools)

"Wasley, Hampel, and Clark remind us that children's lives must be our conscience for school reform?the metric by which we measure our success. In a book that ranges from quite funny, to intellectually intriguing, to deeply disturbing. These authors bring to light the resilience of children, the courage of good educators and the challenge of creating public education that demands our best. (Michele Fine, professor of social/personality psychology, The Graduate School and University Center, The City University of New York)