Kirk-Othmer Encyclopedia of Chemical Technology, Volume 10, 5th Edition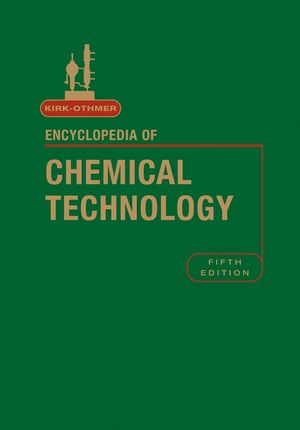 Kirk-Othmer Encyclopedia of Chemical Technology, Volume 10, 5th Edition
ISBN: 978-0-471-48513-1 February 2005 898 Pages
Description
The Kirk-Othmer Encyclopedia of Chemical Technology presents a wide scope of articles on chemical substances, their manufacturing and uses, industrial processes, unit operations in chemical engineering, and on fundamentals and scientific subjects related to the field. The Fifth Edition of the encyclopedia is built on the solid foundation of the previous editions and also reflects advances of the 21st century.
Embedding.
Emission Control, Automotive.
Emission Control, Industrial.
Emulsions.
Energy Management.
Engineering Thermoplastics.
Environmental Impact Assessment.
Enzyme Applications, Industrial.
Enzyme Inhibitors.
Epoxy Resins.
Esterification.
Esters, Organic.
Ethanol.
Ethers.
Ethyl Chloride.
Ethylene.
Ethylene Oxide.
Ethylene Oxide Polymers.
Ethylene-Acrylic Elastomers.
Ethylene-Propylene Polymers.
Explosives and Propellants.
Extraction, Liquid-Liquid.
Fats and Fatty Oils.
Feeds and Feed Additives, Nonruminant Feeds.
Feeds and Feed Additives, Pet Foods.
Feeds and Feed Additives, Ruminant Feeds.