Kirk-Othmer Encyclopedia of Chemical Technology, Volume 12, 5th Edition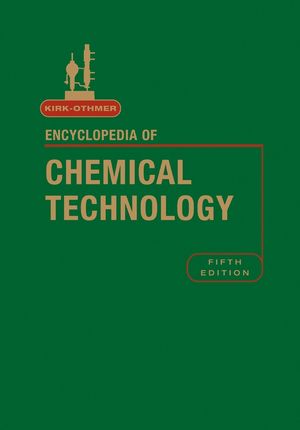 Kirk-Othmer Encyclopedia of Chemical Technology, Volume 12, 5th Edition
ISBN: 978-0-471-48511-7 March 2005 872 Pages
Description
The fifth edition of the Kirk-Othmer Encyclopedia of Chemical Technology builds upon the solid foundation of the previous editions, which have proven to be a mainstay for chemists, biochemists, and engineers at academic, industrial, and government institutions since publication of the first edition in 1949.
* Over 1000 articles in 27 volumes
* More than 600 new or updated articles
Table of contents
Foams.
Food Additives.
Food Processing.
Forensic Chemistry.
Formaldehyde.
Fractionation, Plasma.
Friedel-Crafts Reactions.
Fuel Cells.
Fullerenes.
Furan Derivatives.
Furnaces, Electric.
Furnaces, Fuel-Fired.
Gallium and Gallium Compounds.
Gas, Natural.
Gasoline and Other Motor Fuels.
Gelatin.
Genetic Engineering, Animals.
Genetic Engineering, Microbes.
Genetic Engineering, Plants.
Genetic Engineering, Procedues.
Geothermal Energy.
Germanium and Germanium Compounds.
Glass.
Glass-Ceramics.
Glycols.
Gold and Gold Compounds.
Graphite, Artificial.
Graphite, Natural.
Green Chemistry.
Grignard Reactions.
Groundwater Monitoring.