Kirk-Othmer Encyclopedia of Chemical Technology, Volume 17, 5th Edition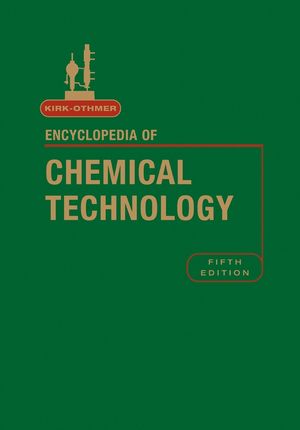 Kirk-Othmer Encyclopedia of Chemical Technology, Volume 17, 5th Edition
ISBN: 978-0-471-48506-3 December 2005 880 Pages
Description
The fifth edition of the Kirk-Othmer Encyclopedia of Chemical Technology, builds upon the solid foundation of the previous editions, which have proven to be a mainstay for chemists, biochemists, and engineers at academic, industrial, and government institutions since publication of the first edition in 1949.

The new edition includes necessary adjustments and modernisation of the content to reflect changes and developments in chemical technology. Presenting a wide scope of articles on chemical substances, properties, manufacturing, and uses; on industrial processes, unit operations in chemical engineering; and on fundamentals and scientific subjects related to the field.

The Encyclopedia describes established technology along with cutting-edge topics of interest in the wide field of chemical technology, whilst uniquely providing the necessary perspective and insight into pertinent aspects, rather than merely presenting information.
* Set began publication in January 2004
* Over 1,000 articles
* More than 600 new or updated articles
* 27 volumes
Table of contents
Molybdenum and Molybdenum Alloys.
Molybdenum Compounds.
Nanotechnology.
Naphthalene.
Nickel and Nickel Alloys.
Nickel Compounds.
Niobium and Niobium Compounds.
Nitration.
Nitric Acid.
Nitrides.
Nitriles.
Nitrobenzene and Nitrotoluenes.
Nitrogen.
Nitrogen Fixation.
Noble-Gas Compounds.
Noble Gases.
Nomenclature.
Nondestructive Evaluation.
Nonlinear Optical Materials.
Nonwoven Fabrics, Spunbonded.
Nonwoven Fabrics, Staple Fibers.
Nuclear Fuel Reserves.
Nuclear Power Facilities, Safety.
Nuclear Reactors.
Nucleic Acids.
Nutraceuticals.
Ocean Raw Materials.
Olefin Polymers, Introduction.
Olefins, Higher.
Oxazolidinones Antibacterials.
Oxygen.
Ozone.
Packaging of Electronic Materials.