Kirk-Othmer Encyclopedia of Chemical Technology, Volume 24, 5th Edition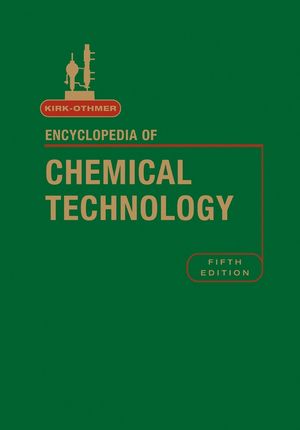 Kirk-Othmer Encyclopedia of Chemical Technology, Volume 24, 5th Edition
ISBN: 978-0-471-48498-1 November 2006 896 Pages
Description
The fifth edition of the Kirk-Othmer Encyclopedia of Chemical Technology builds upon the solid foundation of the previous editions, which have proven to be a mainstay for chemists, biochemists, and engineers at academic, industrial, and government institutions since publication of the first edition in 1949. The new edition includes necessary adjustments and modernization of the content to reflect changes and developments in chemical technology.
Table of contents
Supercritical Fluids.
Supramolecular Chemistry.
Surface and Interface Analysis.
Surfactants.
Sustainable Development and Chemistry.
Sutures.
Sweeteners.
Synthetic Organic Chemicals, Economic Evaluation.
Tanks and Pressure Vessels.
Tantalum and Tantalum Compounds.
Technical Service.
Technology Transfer.
Tellurium and Tellurium Compounds.
Temperature Measurement.
Terpenoids.
Tetracyclines.
Textiles.
Thallium and Thallium Compounds.
Thermodynamics.
Thermoplastic Elastomers.
Thin Film Formation Techniques.
Thorium and Thorium Compounds.
Tin and Tin Alloys.
Tin Compounds.
Titanium and Titanium Alloys.