Kirk-Othmer Encyclopedia of Chemical Technology, Volume 6, 5th Edition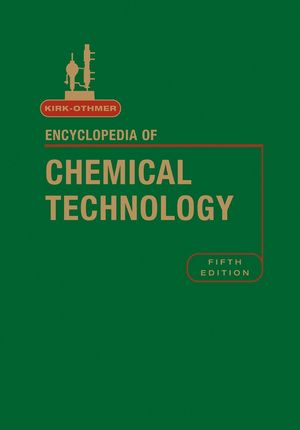 Kirk-Othmer Encyclopedia of Chemical Technology, Volume 6, 5th Edition
ISBN: 978-0-471-48517-9
Jul 2004
896 pages
Description
The fifth edition of the Kirk-Othmer Encyclopedia of Chemical Technology builds upon the solid foundation of the previous editions, which have proven to be a mainstay for chemists, biochemists, and engineers at academic, industrial, and government institutions since publication of the first edition in 1949.
The new edition includes necessary adjustments and modernisation of the content to reflect changes and developments in chemical technology. Presenting a wide scope of articles on chemical substances, properties, manufacturing, and uses; on industrial processes, unit operations in chemical engineering; and on fundamentals and scientific subjects related to the field.
The Encyclopedia describes established technology along with cutting edge topics of interest in the wide field of chemical technology, whilst uniquely providing the necessary perspective and insight into pertinent aspects, rather than merely presenting information.
* Set begins publication in March 2004
* Over 1000 articles in 27 volumes
* More than 600 new or updated articles

Reviews from the previous edition:
"The most indispensable reference in the English language on all aspects of chemical technology...the best reference of its kind".
-Chemical Engineering News, 1992
"Overall, ECT is well written and cleanly edited, and no library claiming to be a useful resource for chemical engineering professionals should be without it."
-Nicholas Basta, Chemical Engineering, December 1992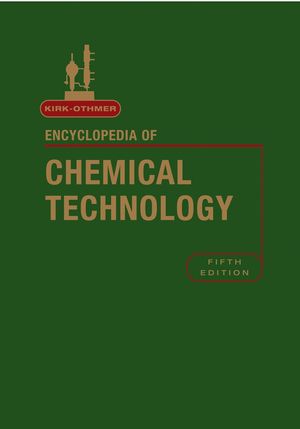 Purchased Together:$11,470.00
Chemoinformatics.
Chemometrics.
Chiral Separations.
Chloric Acid and Chlorates.
Chlorinated Paraffins.
Chlorine.
Chlorobenzenes.
Chlorocarbons and Chlorohydrocarbons, Survey.
Chloroethylenes and Chloroethanes.
Chloroform.
Chloroformates and Carbonates.
Chlorotoluenes, Benzyl Chloride, Benzal Chloride and Benzotrichloride.
Chlorotoluenes, Ring.
Chocolate and Cocoa.
Chromatography.
Chromatography, Affinity.
Chromatography, Gas.
Chromatography, Liquid.
Chromium and Chromium Alloys.
Chromium Compounds.
Chromogenic Materials, Electrochromic.
Chromogenic Materials, Photochromic.
Chromogenic Materials, Piezochromic.
Chromogenic Materials, Thermochromic.
Citric Acid.
Clays, Survey.
Clays, Uses.
Coal.
Coal Gasification.
Coal Liquefaction.