Kirk-Othmer Encyclopedia of Chemical Technology, Volume 9, 5th Edition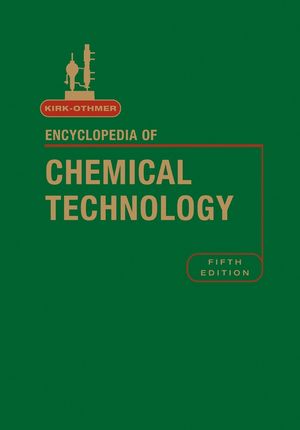 Kirk-Othmer Encyclopedia of Chemical Technology, Volume 9, 5th Edition
ISBN: 978-0-471-48514-8 December 2004 864 Pages
Description
The Kirk-Othmer Encyclopedia of Chemical Technology presents a wide scope of articles on chemical substances, their manufacturing and uses, industrial processes, unit operations in chemical engineering, and on fundamentals and scientific subjects related to the field. The Fifth Edition of the encyclopedia is built on the solid foundation of the previous editions and also reflects advances of the 21st century.
Table of contents
Drilling Fluids.
Drug Delivery Systems.
Drying.
Drying Oils.
Dyeing.
Dyes and Dye Intermediates.
Dyes, Anthraquinone.
Dyes, Azo.
Dyes, Environmental Chemistry.
Dyes, Reactive.
Dyes, Sensitizing.
Economic Evaluation.
Elastomers, Synthetic.
Electroanalytical Techniques.
Electrochemical Machining.
Electrochemical Processing.
Electrochemical Processing, Inorganic.
Electrochemical Processing, Organic.
Electroless Deposition.
Electronic Materials.
Electrophoresis.
Electroplating.