Klassische Mechanik, 3., vollständig überarbeitete und erweiterte Auflage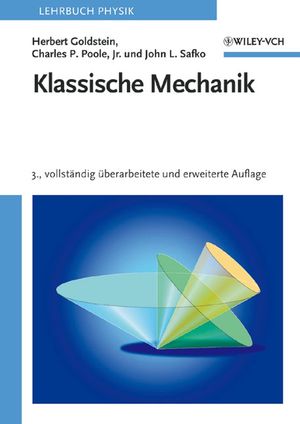 Klassische Mechanik, 3., vollständig überarbeitete und erweiterte Auflage
ISBN: 978-3-527-66207-4
Apr 2012
700 pages
Description
Der Goldstein gehört zu den Standardwerken für die Vorlesung in Klassischer Mechanik, die Pflichtvorlesung und Teil des Theorie-Lehrplans jedes Physik-Studienganges ist.
Für diese aktuelle Ausgabe haben Charles Poole und John Safko die Texte überarbeitet und neueste Themen, Anwendungen und Notationen eingearbeitet und sind damit auf moderne Trends in der Theoretischen Mechanik eingegangen. Neue numerische Übungen verhelfen den Studenten zur Fähigkeit, Computeranwendungen für die Lösung von Physikproblemen zu benutzen. Mathematische Techniken werden detailliert eingeführt, so daß der Text auch für Studenten ohne den entsprechenden Hintergrund der Theoretischen Mechanik verständlich ist.

1. Survey of the Elementary Principles.
2. Variational Principles and Lagrange's Equations.
3. The Central Force Problem.
4. The Kinematics of Rigid Body Motion.
5. The Rigid Body Equations of Motion.
6. Oscillations.
7. The Classical Mechanics of the Special Theory of Relativity.
8. The Hamilton Equations of Motion.
9. Canonical Transformations.
10. Hamilton-Jacobi Theory and Action-Angle Variables.
11. Classical Chaos.
12. Canonical Perturbation Theory.
13. Introduction to the Lagrangian and Hamiltonian Formulations for Continuous Systems and Fields.
Appendix A. Euler Angles in Alternative Conventions and Cayley-Klein Parameters.
Appendix B. Groups and Algebras.
Selected Bibliography.
Author Index.
Subject Index.

rem.: to be translated for the german ed.
"This volume represents an excellent contribution to university textbooks and can be recommended to both students and teachers who wish to clear up their knowledge in the field." (Zentralblatt MATH, 1132, 2008)