Kleinians: Psychoanalysis Inside Out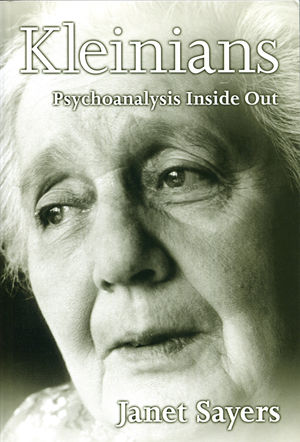 Kleinians: Psychoanalysis Inside Out
ISBN: 978-0-745-62124-1 December 2000 Polity 256 Pages
Download Product Flyer
Download Product Flyer
Download Product Flyer is to download PDF in new tab. This is a dummy description. Download Product Flyer is to download PDF in new tab. This is a dummy description. Download Product Flyer is to download PDF in new tab. This is a dummy description. Download Product Flyer is to download PDF in new tab. This is a dummy description.
Description
Kleinians
is a compelling account of the extraordinary revolution in psychology pioneered by the psychoanalyst Melanie Klein and nine of her colleagues and followers, including Susan Isaacs, Joan Riviere, Wilfred Bion, Frances Tustin and Hanna Segal.

Drawing on her experience as a professor, writer and therapist, Janet Sayers tells the story of this revolution through an account of the personal and public lives of its main architects, their families and patients. The result is a lively mixture of biography, psychoanalytic theory and individual case studies. The author begins with Klein's pioneering extension of Freud's theories to the analysis of very young children. This led to her claim that from birth onwards children internalize figures from their outer world, resulting in an interaction of inner and outer factors which then govern our psychology. Sayers shows how, sometimes with bitter controversy, this radical insight was variously developed, and is still being developed by Klein's followers, thereby enormously enhancing our understanding of the creative and destructive factors shaping our everyday lives.

Kleinians continues the engaging biographical approach of Sayers's previous successful collections, Mothering Psychoanalysis and Freudian Tales, and will be appealing and informative to all those interested in psychology -- to students and specialists (in psychiatry, psychotherapy, counselling and social work), and to general readers alike.
Table of contents
Acknowledgements.
Illustrations.
Introduction: Inside Out.
Chapter 1: Melanie Klein: Discovering Inner Reality.
Chapter 2: Susan Isaacs: Children's Phantasies.
Chapter 3: Joan Riveriere: Gendered Masquerades.
Chapter 4: Adrian Stokes: Ballet and Art.
Chapter 5: Herbert Rosenfeld: Schizophrenics and Gangsters.
Chapter 6: Wilfred Bion: Individual and Group Analysis.
Chapter 7: Esther Bick: Infant Observation.
Chapter 8: Frances Tustin: Anorexia and Autism.
Chapter 9: Hanna Segal: Symbolism and Psychosis.
Chapter 10: Ronald Britton: Exclusions and Elegies.
Conclusion: Further Integrations.
Notes.
Index.
Reviews
'This is an astonishing compilation of biographical and professional details about Melanie Klein and nine of her followers. Many are of such recent history that these are uniquely valuable accounts. They give a clear picture of a remarkable group of contemporary psychoanalysts whose influence since the Second World War has been gaining ground steadily within the international psychoanalytic movement and in other academic and professional disciplines. The group is remarkable, and this book is a remarkable celebration of them.'
Bob Hinshelwood, Professor of Psychoanalysis and author of
Dictionary of Kleinian Thought
and
Melanie Klein for Beginners
'This book is a celebration of people who have advanced our understanding of the factors that shape our everyday lives. There are many anecdotes about them here that are quite fascinating.' Australian Journal of Psychotherapy
Features
A Melanie Klein and her followers caused a revolution in psychology; this is the first book to bring together and describe their pioneering work.

A The book is a highly engaging read, combining lively biographical sketches with psychoanalytic theory and patient case studies.

A The Kleinians builds on the author's already very successful reputation as a chronicler of key psychologist's work and lives.