Knitting Patterns For Dummies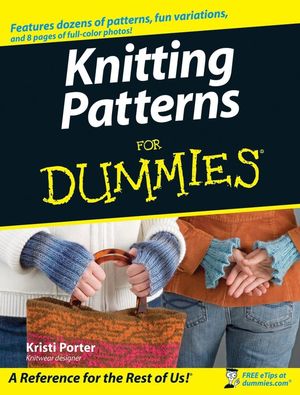 Description
Have you always wanted to knit? Know the basics, but you're looking to stretch your knitting skills? Knitting Patterns For Dummies is chock-full of simple instructions and easy-to-follow patterns to help you create a wide range of classic, beautiful knits for the whole family, from clothing to household items to gift ideas. This fun, friendly guide gives you scores of new ways to have fun with needles and yarn, with great projects such as basic ponchos and pullovers, felted bags and slippers, cabled sweaters, and home and baby accessories, to name a few. You get step-by-step instructions for all the patterns in the book, along with line drawings and 8 pages of full-color photos to guide you. And, with the variations added at the end of many of the patterns, you'll have almost 100 projects to choose from! You'll discover how to:
Select the right yarn and needles
Decipher knitting lingo
Measure your gauge, read a pattern, and understand garment sizing
Work with common stitches, such as the stockinette, garter seed, box, and half linen
Handle ribbing, cabling, and knitting lace
Work with patterns with rectangles, circles, and triangles
Use colorful stitches such as the Stripes, Fair Isle, and Mosaic
Join shapes together in your design
Create different textures and add color throughout a piece or just as accents
You'll also find ten things you can knit with that aren't yarn or needles, as well as plenty of tips for caring for your knits once they're complete. From beanies to bags to blankets, Knitting Patterns For Dummies has it all—everything you need to pick up your sticks and get creative right away!
Introduction.
Part I: The Nuts and Bolts (or Sticks and String) of Knitting.
Chapter 1: The Right Stuff: Knitting Supplies.
Chapter 2: Gauge Your Success.
Chapter 3: Do You Measure Up? Size Matters.
Chapter 4: Break the Code: Reading Patterns.
Part II: A Primer on Stitches and Color.
Chapter 5: The Simplest Stitches.
Chapter 6: Stitches that Look Tricky but Aren't.
Chapter 7: Colorful Stitches.
Part III: Patterns with Rectangles and Related Shapes.
Chapter 8: Rectangles to Wear.
Chapter 9: Rectangles for the Home.
Chapter 10: Almost Rectangles.
Part IV: Patterns with Circles, Triangles, and More.
Chapter 11: Knitting in Circles.
Chapter 12: Shaping Triangles.
Chapter 13: Putting Together Rectangles and Triangles.
Chapter 14: Knitting Beyond Geometry Class.
Part V: The Part of Tens.
Chapter 15: Ten Things You Can Knit with that Aren't Yarn or Needles.
Chapter 16: Almost Ten Things You Can Do with Your Swatches.
Chapter 17: Ten Ways to MacGyver Your Knitting.
Chapter 18: Ten Smart Ways to Care for Your Knits.
Appendix: Basic Knitting Skills.
Index.