Knockdown Knits: 30 Projects from the Roller Derby Track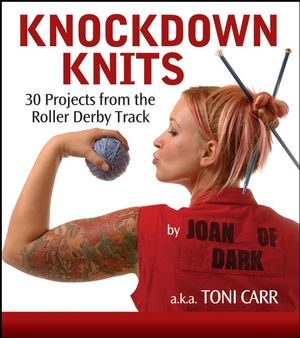 Knockdown Knits: 30 Projects from the Roller Derby Track
ISBN: 978-0-470-23954-4
Aug 2008
134 pages
Product not available for purchase
Description
Knit neat items inspired by sassy roller derby girls with the thirty hip knitting patterns that you will find in Knockdown Knits: 30 Projects from the Roller Derby Track. Roller derby, with its cheeky players, fast-paced jams, heart-stopping pileups, and rowdy, raucous atmosphere, is just as hot as the designs in this unconventional book. The Naptown Roller Girls of Indianapolis, Indiana, share the patterns they use when they're knitting in the off-time. On skates, they're hell on wheels; in their spare time, they've discovered that knitting is a relaxing, creative outlet.
Introduction.
THE INJURY LIST.
"Hey, at Least It Wasn't Your Leg" Arm Sling.
Armpit Cushions for Crutches.
Frozen Peas for Bruised Knees (Ice Pack Cover).
Booty Pillow.
Elevate that Ankle Pillow.
SKATING IN STYLE.
Slinky Leg Socks.
Slinky Arm Socks.
Broken Arm Sweater.
I ♥ Derby Sweater.
Neck Warmer/Headband.
Know Your Jammer Hat.
Know Your Pivot Hat.
"If You've Got It, Flaunt It" Skirt.
Easy Access Leg Warmers.
Know Your Number Arm Bands (with Music Holder).
Golden Tickets Vest.
Belly Warmer.
Baby Got Back Bloomer Panties.
ALL THE WAYS TO PRETTY UP YOUR GEAR.
On the Move (Felted Skate Bag).
You're a Star Tool Bag.
Mouth Guard Box Cover.
LET'S NOT FORGET THE REFS.
Who the Heck Is My Jammer, Ref? (Armbands).
Smile and Wave Ref Mittens.
B&W Striped Tank for the Girlie Refs.
OH, THE AFTER PARTY.
Hangover Kit.
Dill and Brownie's Beer Saver (Arm Warmer with Attached Drink Holder).
VIP Wristband.
Hide the Helmet Hair Hat.
Know Your Buddy Chain Wrist Cuffs.
Queen of the Rink Crown.
THE SISTERHOOD PROJECT.
Knit It Together Blanket.
Renee's NRG [U]FC Scarf.
Buddy Purse.
Derby Wedding Veil.
Breaking Rule #1 (Baby Booties).
Knitting Abbreviations.
Special Knitting Techniques.
Resources for Derby Girls.
Roller-Derby Leagues.
Index.