Know Your Parenting Personality: How to Use the Enneagram to Become the Best Parent You Can Be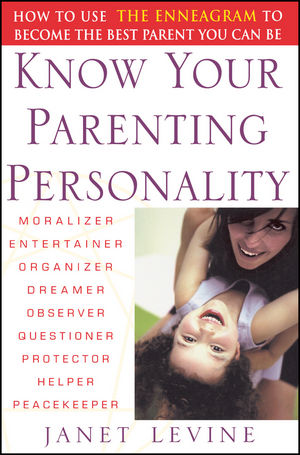 Know Your Parenting Personality: How to Use the Enneagram to Become the Best Parent You Can Be
ISBN: 978-0-471-48083-9 July 2003 288 Pages
Description
Knowing yourself helps your child

Are you a Helper or an Organizer? A Dreamer or an Entertainer? No matter which of the personality types on the Enneagram you are, this groundbreaking system gives you the vision to see the world as your child sees it-and the power to use this vision to achieve all of your parenting goals.

Know Your Parenting Personality helps you discover how your personality motivates the way you behave as a parent and how your child's personality interacts with your own. As an expert on personality, Janet Levine has pioneered a new understanding of the Enneagram based on hundreds of interviews with parents. You'll learn how to recognize your greatest parenting strengths and weaknesses and how to free yourself to become a true guide and mentor to your child. This invaluable parenting guide helps you:
* Establish stronger connections with your child
* Eliminate self-defeating behavior patterns
* Deepen parent--child communication
* Reduce stress in your home
* Gain self awareness and identify your parenting strengths
* Support the flowering of your child's personality


Read Know Your Parenting Personality and become the parent you always wanted to be.
Acknowledgments.
Introduction.
1. Discovering Your Parenting Personality: What's Your Type?
2. The Helper: Meeting the Needs of Others.
3. The Organizer: Loving through Doing.
4. The Dreamer: Connection Is Everything.
5. The Observer: Let's Step Back and See.
6. The Questioner: ""Be Prepared""—That's My Motto.
7. The Entertainer: Let's Have Fun! Let's Play!
8. The Protector: I Am Your Sanctuary: Nothing Threatens You Here.
9. The Peacekeeper: Living Life through Others.
10. The Moralizer: Always Striving for Perfection.
Epilogue: Taking the Next Step.
Appendix: History, Research, and Theory on Personality Studies.
References.
Topics for Discussion.
Index.
Know Your Parenting Personality: How to Use the Enneagram to Become the Best Parent You Can Be
is a powerful new book on parenting by author and educator Janet Levine. In this book Levine applies The Enneagram, a popular system of personality mapping, to parenting. The book is geared towards book clubs and discussion groups and includes a discussion guide.
"…An interesting concept, well presented with lots of practical advice and case studies…" (Junior, July 2003)