Know Your Parenting Personality: How to Use the Enneagram to Become the Best Parent You Can Be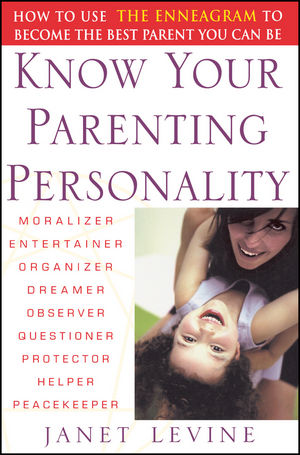 Know Your Parenting Personality: How to Use the Enneagram to Become the Best Parent You Can Be
ISBN: 978-0-471-48083-9 July 2003 288 Pages
Description
Knowing yourself helps your child

Are you a Helper or an Organizer? A Dreamer or an Entertainer? Nomatter which of the personality types on the Enneagram you are,this groundbreaking system gives you the vision to see the world asyour child sees it-and the power to use this vision to achieve allof your parenting goals.

Know Your Parenting Personality helps you discover how yourpersonality motivates the way you behave as a parent and how yourchild's personality interacts with your own. As an expert onpersonality, Janet Levine has pioneered a new understanding of theEnneagram based on hundreds of interviews with parents. You'lllearn how to recognize your greatest parenting strengths andweaknesses and how to free yourself to become a true guide andmentor to your child. This invaluable parenting guide helpsyou:
* Establish stronger connections with your child
* Eliminate self-defeating behavior patterns
* Deepen parent--child communication
* Reduce stress in your home
* Gain self awareness and identify your parenting strengths
* Support the flowering of your child's personality

Read Know Your Parenting Personality and become the parent youalways wanted to be.
Table of contents
Acknowledgments.

Introduction.

1. Discovering Your Parenting Personality:What's Your Type?

2. The Helper: Meeting the Needs of Others.

3. The Organizer: Loving through Doing.

4. The Dreamer: Connection Is Everything.

5. The Observer: Let's Step Back and See.

6. The Questioner: "Be Prepared"--That'sMy Motto.

7. The Entertainer: Let's Have Fun!Let's Play!

8. The Protector: I Am Your Sanctuary: NothingThreatens You Here.

9. The Peacekeeper: Living Life through Others.

10. The Moralizer: Always Striving forPerfection.

Epilogue: Taking the Next Step.

Appendix: History, Research, and Theory onPersonality Studies.

References.

Topics for Discussion.

Index.
Reviews
Know Your Parenting Personality: How to Use the Enneagram toBecome the Best Parent You Can Be is a powerful new book onparenting by author and educator Janet Levine. In this book Levineapplies The Enneagram, a popular system of personality mapping, toparenting. The book is geared towards book clubs and discussiongroups and includes a discussion guide.

"...An interesting concept, well presented with lotsof practical advice and case studies..." (Junior, July2003)Janet Levine's newest book is to this generation of parents whatHaim Ginott's "Between Parent and Child" was to the '60s and ThomasGordon's "Parent Effectiveness Training" was to the '70s. This bookaddresses people who have the most motivation to bring aboutchange: parents. They will find effective action strategies topromote greater understanding, compassion and self-esteem for bothparent and child. I highly recommend this book to allparents.
--Sammylane Wirth, PH.D Family Therapist, ParentEducator

Janet Levine has written a wonderful book. She has translatedand applied the material on personality typology in a manner whichis cogent, accessible and engaging for both clinicians and parents.This is an extremely valuable resource for everyone who seeks tounderstand parent-child interaction, and will help many individualsbecome more empathic toward themselves and the ones theylove.
--Joseph G. Schaller, Psy.D. Clinical Psychologist;Director, The Postgraduate Center, and Adjunct Assistant Professor,The Institute for Graduate Clinical Psychology, WidenerUniversity;Private Practice with Children and Adults

Janet Levine's revolutionary and valuable new book directsreaders to specific action programs to make lasting improvementswithin their family dynamics. It is clearly written, helpful andempowering; a must read for all parents, would-be parents, andprofessionals who work with parents.
--Sarah M. Drennan, Ph.D Licensed ClinicalPsychologist, and psychotherapist in private practice