Knowledge@Wharton: On Building Corporate Value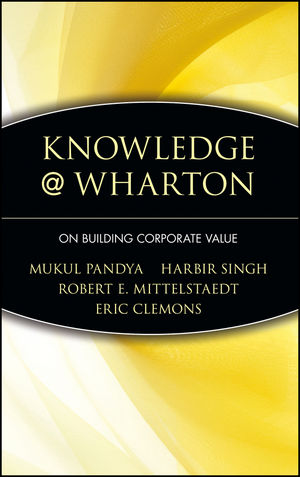 Knowledge@Wharton: On Building Corporate Value
ISBN: 978-0-471-00830-9
Nov 2002
240 pages
Product not available for purchase
Description
Offers a new way of looking at the perplexing circumstances surrounding business today.
Knowledge@Wharton on Building Corporate Value examines the financial and strategic approaches for bringing companies back from the bleeding edge. Through a combination of research, Wharton Executive Education programs and events, and company cases and interviews with industry leaders, this book delivers epiphanies for managers who have lost their way in the e-craze. The authors provide a framework for applying more robust and rigorous approaches to financing, outsourcing, R&D, company infrastructure, and customer relationship management.
Introduction: You Cannot Violate the Laws of Economics.

PART I: FRAMEWORK.

1. A Hare, a Tortoise, and the Business of Buying Groceries Online.

2. Creating Internet Strategies for Competitive Advantage.

3. Customer Behavior and Internet Strategies.

4. Managing Risks in Internet Strategy.

PART II: EXPERIENCE.

5. How an Internet-Based Strategy Affects Financial Services.

6. Internet Strategy and the New Media.

7. Post Mortem: Lessons from the Online Stamp Market.

8. Online Exchanges: Do They Have a Future?

Conclusion: Sustaining Competitive Advantage Amid Uncertainty.

Appendix: Selected Readings.

Endnotes.

Index.