Knowledge Coordination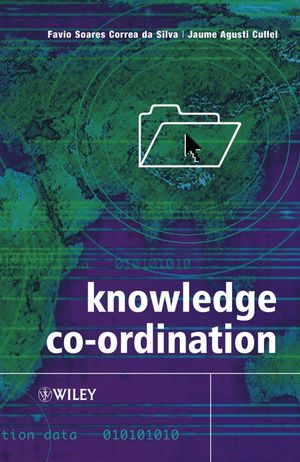 Knowledge Coordination
ISBN: 978-0-470-85836-3 January 2005 190 Pages
Description
Knowledge management has become an important topic for the theory and practice of organisation management. Knowledge Coordination argues that coordination is a key factor for managing knowledge within organisations. By offering a clearcut conceptualisation of knowledge, it fills an important gap in the literature on knowledge management.

Based on the authors' rational reconstruction of knowledge coordination for knowledge management, this text identifies techniques and conceptual tools to build systemic solutions to improve on corporate operational efficacy.

Contrasts business strategies, and presents and discusses the tools to implement management systems based on each of the different strategies. Among these tools, the authors discuss ontological engineering, communities of practice and an original conceptual tool called Structure of Capability Providers.

Covers topics including:
Intelligent Agents for Knowledge Modelling
Artificial Intelligence
Ontologies
Managing Capabilities
Assessing Knowledge Coordination
It will be highly popular with academic and industrial researchers who need to understand the current thinking in research of knowledge management. In addition it is aimed at senior undergraduate and postgraduate students in computer science and Information Technology and in particular researchers in knowledge engineering, artificial intelligence and agent based systems. Management and business professionals and those dealing with IT systems design and implementation will also find it useful.
Foreword..
Acknowledgements.
List of Figures.
List of Tables.
1.  Introduction.
Management, Engineering and Society.
Goals and Motivations of this Book.
Intended Audience.
Overview of Chapters.
2.  Knowledge.
Knowledge and Management.
So What Is Knowledge and Where Can We Find It?
3.  Agents.
Agents for Knowledge Modelling.
Agents for Organisational Modelling and Design.
4.  Ontologies.
Ontologies - Natural and Artificial.
Implementing and Using Artificial Ontologies.
Illustrative Example I: The Resources-Events-Agents Enterprise Ontology.
Illustrative Example II: The National Academic CVs Database in Brazil-Lattes.
Natural Ontologies and Knowledge Coordination.
5.  Capabilities.
Managing Capabilities.
Structures of Capability Providers.
Examples.
Assessing Knowledge Coordination.
6.  Conclusion.
Bibliography.
Index..