Knowledge for Action: A Guide to Overcoming Barriers to Organizational Change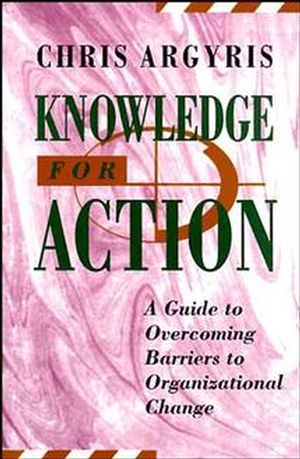 Knowledge for Action: A Guide to Overcoming Barriers to Organizational Change
ISBN: 978-1-555-42519-7 April 1993 Jossey-Bass 336 Pages
Description
Must reading for academics and executives alike. Leading business scholar Chris Argyris helps readers understand why individuals and organizations are unable to learn from their action, then presents the steps that must be taken to change.
UNCOVERING ROADBLOCKS TO IMPROVEMENT.

Ineffective Learning in Organizations.

Defensive Routines That Limit Learning.

DIAGNOSING AND INTERVENING IN THE ORGANIZATION.

Step One: Interview and Observe the Players.

Step Two: Organize the Findings for Learning and Action.

Step Three: Conduct Meaningful Feedback Sessions.

Step Four: Facilitate the Change Seminar with Live Cases.

USING KEY LEARNINGS TO SOLVE PROBLEM SITUATIONS.

Explosive Relationships: Stopping Button Pushing.

Mistrust: Overcoming Resentment and Rebuilding Trust.

New Team Leadership: Managing the Clash of Expectations andNeeds.

CEO's Performance Review: Getting Feedback from Below.

Managing Exchanges That Could Go Ballistic: Discussing andCorrecting Out-of-Control Routines.

Conclusion: A Model for Change and Improvement.

Appendix: Design Causality: Explaining, Acting On, and IntegratingDiverse Perspectives.
"Knowledge for Action is must reading for academics and executives alike. Chris Argyris once again demonstrates that he is the leading scholar in helping us understand why individuals and organizations are unable to learn from their actions and what steps must be taken to develop this essential capability. No executive who desires his organization to improve and learn continuously, or academic who wants to develop usable as opposed to merely useful theory, can do so without understanding the message of this book." (Michael Beer, professor of business administration, Harvard Business School)