Koi For Dummies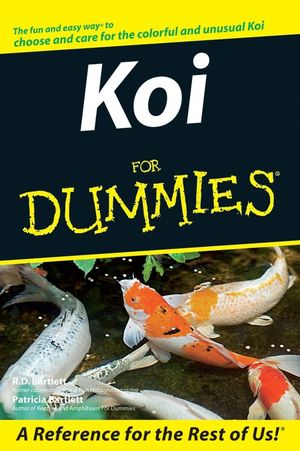 Koi For Dummies
ISBN: 978-1-118-06817-5
May 2011
288 pages
Description
Known throughout the world for its beauty and personality, koi is one of the most carefully bred fish species around. Raising koi is especially time-consuming and requires more than just sprinkling little flakes in the fish bowl. But thankfully, you don't have to be an expert to maintain your own koi pond.

Koi For Dummies shows you how easy and fun it can be to own and care for these delicate fish. Whether building a pond or aquarium for the indoors or outdoors, this easy-to-understand guide explores all of your options. Clear, concise advice helps you:
Appreciate your koi's beauty
Build, design, and maintain your koi pond or aquarium
Find and select koi and the proper supplies
Keep your koi happy and healthy
Treat your koi for parasites, bacterial infections, and viruses
Breed and care for baby koi
Show off your koi to other koi enthusiasts
Introduction.
Part I: Koi Basics.
Chapter 1: Going "Koi Kichi" — Crazy for Koi.
Chapter 2: Knowing Your Koi.
Chapter 3: Making Sure Koi Are Right for You.
Chapter 4: A Koi Buyer's Guide.
Part II: Living with Koi, Inside and Out.
Chapter 5: Preparing for Your Koi's Homecoming.
Chapter 6: Planning Your Koi Pond.
Chapter 7: Building Your Pond.
Chapter 8: Making It Pretty: Landscaping the Pond.
Chapter 9: Maintaining Your Pond.
Chapter 10: Keeping Koi Inside.
Part III: Caring for Koi and Keeping Them Healthy.
Chapter 11: Koi Nutrition 101.
Chapter 12: Diffusing Koi Stress.
Chapter 13: Spotting and Treating Common Koi Ailments.
Part IV: The Big Leagues: Koi Breeding and Showing.
Chapter 14: Breeding Koi.
Chapter 15: The Small Fry: Bringing Up Baby Koi.
Chapter 16: Koi Shows: Your All-Access Pass to Koi Kichi-dom.
Part V: The Part of Tens.
Chapter 17: Ten Things to Do When the Power Goes Out.
Chapter 18: Ten Things to Check If Your Koi Seem Sick.
Index.