Korean For Dummies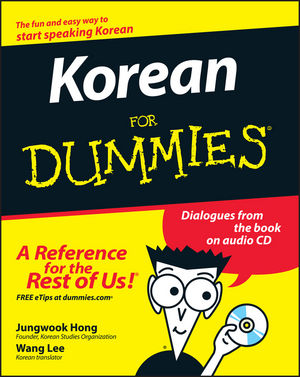 Korean For Dummies
ISBN: 978-1-118-05058-3 May 2011 384 Pages
Description
Start speaking Korean the fun and easy way with
Korean For Dummies
, a no-nonsense guide to Korean culture and the basics of Korean language. Pick up basic phrases and commonly used words so that you can converse with Koreans in both business and personal situations. You'll learn Korean for everyday life and task-specific expressions for Korean on the go. In addition, you'll discover important and fascinating aspects of Korean culture.
This handy guide won't burden you with lists of grammar rules; just look up the phrases and cultural phrases that you need or read through the whole book for a general overview. You'll be able to place material in a daily context with cultural tidbits, phonetic spelling of Korean words, and the recorded Korean dialogues on the accompanying CD. Exercises will jog your memory and reinforce everything that you learn. Find out how to:
Use basic phrases and words correctly
Converse intelligently about Korean culture
Do business with a Korean company
Say task-specific expressions
Pronounce Korean words
Put material in a real-world context
Make a good first impression with Koreans
Complete with lists of ten ways to learn Korean quickly, ten phrases to make you sound Korean, ten expressions that Koreans like to use, and ten things you should never do around a Korean, Korean For Dummies is your one-stop guide to speaking basic Korean and understanding the fundamentals of Korean culture.
Table of contents
Introduction.
Part I: Getting Started.
Chapter 1: Getting Down the Basics.
Chapter 2: The Nitty-Gritty: Basic Korean Grammar and Numbers.
Chapter 3: Introductions and Greetings.
Part II: Korean in Action.
Chapter 4: Getting to Know You: Making Small Talk.
Chapter 5: Eating and Drinking.
Chapter 6: Shopping Made Easy.
Chapter 7: Exploring the Town.
Chapter 8: Enjoying Yourself: Recreation and Sports.
Chapter 9: Making Connections: Phone, Mail, Fax, and Internet.
Chapter 10: At the Office and Around the House.
Part III: Korean on the Go.
Chapter 11: Money, Money, Money.
Chapter 12: Asking Directions.
Chapter 13: Staying at a Hotel.
Chapter 14: Transportation.
Chapter 15: Planning a Trip.
Chapter 16: Handling an Emergency.
Part IV: The Part of Tens.
Chapter 17: Ten Ways to Get a Quick Handle on Korean.
Chapter 18: Ten Things to Avoid Doing in Korea.
Chapter 19: Ten Favorite Korean Expressions.
Chapter 20: Ten Phrases That Make You Sound Korean .
Part V: Appendixes.
Appendix A: Korean Verbs.
Appendix B: Mini-Dictionary.
Appendix C: Answer Key.
Appendix D: On the CD.
Tracks on the CD.
System Requirements.
Customer Care.
Index.