Kristeva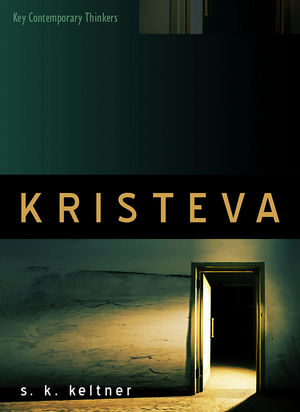 Kristeva
ISBN: 978-0-745-65805-6 May 2013 Polity 216 Pages
Download Product Flyer
Download Product Flyer
Download Product Flyer is to download PDF in new tab. This is a dummy description. Download Product Flyer is to download PDF in new tab. This is a dummy description. Download Product Flyer is to download PDF in new tab. This is a dummy description. Download Product Flyer is to download PDF in new tab. This is a dummy description.
Description
Julia Kristeva is one of the most creative and prolific writers to address the personal, social, and political trials of our times. Linguist, psychoanalyst, social and cultural theorist, and novelist, Kristeva's broad interdisciplinary appeal has impacted areas across the humanities and social sciences.
S. K. Keltner's book provides the first comprehensive introduction to the breadth of Kristeva's work. In an original and insightful analysis, Keltner presents Kristeva's thought as the coherent development and elaboration of a complex, multidimensional threshold constitutive of meaning and subjectivity. The 'threshold' indicates Kristeva's primary sphere of concern, the relationship between the speaking being and its particular social and historical conditions; and Kristeva's interdisciplinary approach. Kristeva's vision, Keltner argues, opens a unique perspective within contemporary discourses attentive to issues of meaning, subjectivity, and social and political life. By emphasizing Kristeva's attention to the permeable borders of psychic and social life, Keltner offers innovative readings of the concepts most widely discussed in Kristeva scholarship: the semiotic and symbolic, abjection, love, and loss. She also provides new interpretations of some of the most controversial issues surrounding Kristeva's work, including Kristeva's conceptions of intimacy, social and cultural difference, and Oedipal subjectivity, by contextualizing them within her methodological approach and oeuvre as a whole.
Julia Kristeva: Thresholds is an engaging and accessible introduction to Kristeva's theoretical and fictional works that will be of interest to both students and scholars across the humanities and social sciences.
Table of contents
Acknowledgements
Abbreviations
Introduction: Thresholds
Chapter 1: Kristeva's Theory of Meaning and Subjectivity
§ The Semiotic and the Symbolic, § From the Symbolic to the Semiotic - The Phenomenological Theory of Meaning, § From the Semiotic to the Symbolic - The Psychoanalytic Theory of Meaning, § The Dialectic of Semiotic and Symbolic
Chapter 2: Kristeva's Psychoanalytic - Abjection, Love, and Loss
§ Kristeva's Theory of Subjective Diachrony, § Powers of Horror, § Tales of Love, § Black Sun, § Abjection, Love, and Loss in the Wake of Symbolic Collapse
Chapter 3: The Public Stakes of Intimacy
§ What Is Intimacy? § Intimacy and the Event of Natality, § Freud's Involution of Intimacy, § Abjection Ð Intimate Suffering/ Public Horror, § "Ravaged Intimacy" and the Event of Death," § What's Love Got to Do with It?
Chapter 4: Intimate Revolt and the Society of the Spectacle
§ The Spectacular Horizon of Kristeva's Concept of Revolt, § The Scandal of Timelessness - Kristeva's Phenomenological-Psychoanalytic Concept of Time, § In Search of an Experience - Proustian Revolt, § Sex and Time: The Interminable Revolt of Female Genius
Chapter 5: So Many Oedipuses, So Little Time
§ Reviving Oedipus, § Oedipus is dead, and we have killed him, § The Irony of Antigone, pariah of the sacred, § Anti-Oedipus
Chapter 6: Kristeva's Novelistic Approach to Social and Political Life
§ Homo Spectator, § Detective Fiction: Kristeva's Proper, Specular Inquiry, § Inspector Freud; Dr. Delacour, § My Own Private Byzantium; or, the Odd Future Anterior of Kristeva's Hero
Conclusion: Politics at the Margin - Kristeva's Wager on the Future of Revolt
Further reading
Notes
References
Index
Reviews
"Keltner's book is highly original, insightful, and promises to change the way scholars have traditionally read Kristeva's work."
Kelly Oliver, Vanderbilt University
"The book represents an engaging and original interpretation of the entire spectrum of Kristeva's work, including her often overlooked fiction. There are real gems in this manuscript, in particular a terrific and highly original interpretation of Kristeva's theory of intimacy, Oedipus, temporality, as well as of the phenomenological and ontological dimensions of her work, often disregarded by her interpreters. In short, Kristeva is a remarkable intellectual achievement."
Ewa Ziarek, University at Buffalo
"Keltner deftly demonstrates how Kristeva extends phenomenological insights in radically new directions. Her fresh, probing analysis decisively tackles the social and historical significance of Kristeva's Freudian and aesthetic standpoint. A tour de force of Kristeva's highly faceted portrait of Oedipus supports Keltner's excellent and timely elucidation of 'intimate revolt.'"
Sara Beardsworth, Southern Illinois University Carbondale, author of Julia Kristeva: Psychoanalysis and Modernity
Features
new volume in the Key Contemporary Thinkers series focusing on the work of the important theorist Julia Kristeva
provides the first comprehensive introduction to the breadth of Kristeva's work, including her theoretical and fictional works
offers innovative readings of the concepts most widely discussed in Kristeva scholarship: the semiotic and symbolic, abjection, love, and loss
also provides new interpretations of some of the most controversial issues surrounding Kristeva's work, including intimacy, social and cultural difference, and Oedipal subjectivity


accessible and engaging, this will likely become the key introduction to Kristeva's work