Kyklos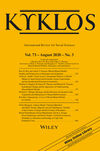 Kyklos
Vol 71(4 Issues in 2018 )
Print ISSN: 0023-5962
Online ISSN: 1467-6435
Impact Factor: 1.191
Digital version available through Wiley Online Library
Description
KYKLOS views economics as a social science and as such favours contributions dealing with issues relevant to contemporary society, as well as economic policy applications. Since its inception over 60 years ago, KYKLOS has earned a worldwide reputation for publishing a broad range of articles from international scholars on real world issues. KYKLOS encourages unorthodox, original approaches to topical economic and social issues with a multinational application, and promises to give fresh insights into topics of worldwide interest.
KYKLOS provides information on political economy worldwide, containing contributions from scholars of international status.
KYKLOS keeps its readership informed as to the latest trends and development in political economy.
KYKLOS is intended for the reader from the academic, administrative and business sector with an interest in scientific economics.
Manuscript:

A single document, all elements in the following order:

- Title page (all author information; correspondence contact address; disclosure statements)
- Abstract and keywords
- References
- Figure Legends
- Tables (each table on a separate page)
- Appendices

Figures (individual TIFF or EPS files)