La lengua que heredamos: Curso de español para bilingües, 7th Edition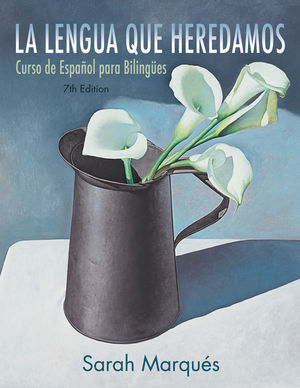 La lengua que heredamos: Curso de español para bilingües, 7th Edition
ISBN: 978-1-118-29761-2
Jan 2012
528 pages
Description
The 7th edition of La lengua que heredamos, "The language we inherit," is geared towards a lower- to upper-intermediate level user. Its proven literacy-building approach provides the tools necessary to use Spanish more effectively in personal and professional situations. All four skills - reading, writing, speaking,listenting- are stressed throughout the text. This new edition includes twenty-two chapters, plus a Leccion preliminar, a Repasos section, and a Spanish-English glossary. The ultimate goal of the text is guide students towards' mastery of advanced Spanish grammar and vocabulary. Special emphasis is placed on reading comprehension and written communication.
Lecturas includes new readings and articles on issues and people of current interest.

In the grammar section, the use of the verbs soler, ser and estar , and related exercises have been added.

Many exercises in all sections of the book have been expanded or revised.

Miscelánea introduces new cultural information in many chapters.

Correspondencia commercial: In chapter 21, three model letters have been added.

Vocabulario tecnológico en español y de palabras de uso común provenientes del inglés in the Apéndice II has been expanded and re-arranged for better organization.

Repasos I, II, III, IV, and V are now in Apéndice I.

Additional readings and suggestions for the instructor, along with an Answer Key, are available on the Book Companion Site.
Solid and systematic review of spelling and grammar, with development of communication skills

Proficiency development in all four language skills

Exploration of Spanish, Latin American, and U.S. Latino cultures.