Labor-Management Relations in a Changing Environment, 2nd Edition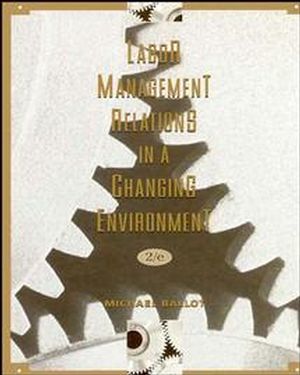 Labor-Management Relations in a Changing Environment, 2nd Edition
ISBN: 978-0-471-11185-6 November 1995 656 Pages
Description
Comprehensive and up-to-date coverage of labor management relations with a substantial portion devoted to economic issues and analysis in the labor field.
Table of contents
Partial table of contents:

THE CONTEXT OF AMERICAN LABOR RELATIONS.

The Historical Development of the American Labor Movement.

Labor and Employment Law.

Union Structure and Government.

UNIONS AND COLLECTIVE BARGAINING.

Collective Bargaining: The Process.

Wages and Collective Bargaining.

Collective Bargaining for Economic Supplements.

Institutional Issues in Collective Bargaining.

LABOR DISPUTES AND THEIR RESOLUTION.

Alternative Dispute Resolution Techniques.

The Strike.

UNIONIZATION IN THE PUBLIC SECTOR.

Public Sector Unionism: The Federal Government.

Public Sector Unionism: State and Local Government.

THE SCOPE AND FUTURE OF LABOR-MANAGEMENT RELATIONS.

Current Issues, Future Concerns.

Appendix.

Index.